You are here
Programme for Health Service Improvement (PHSI)


Programme for Health Service Improvement  - Introducing the Saolta Programme Management Office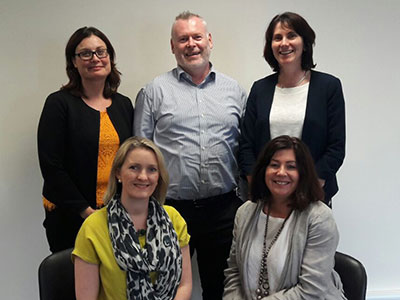 The National Programme for Health Service Improvement (PHSI) was established to support the development of a better health service for all the people of Ireland.  It is working together with the people who deliver and receive health and social care across the country, to design a better more joined-up health service that the patient can access safely, quickly and as close to their home as possible.
It is supported by a network of Programme Management Offices at national and local level.   The Saolta Group Programme Management Office (PMO) was established in March 2017 led by Jo Shortt (Portfolio Manager) and the Programme Sponsor is Dr Pat Nash (Chief Clinical Director). 
Within the Saolta University Health Care Group, we have prioritised a number of key projects:
Saolta Integrated Governance Project
The development of a groupwide clinical and corporate strategy - The Saolta University Health Care Group Strategy 2018-2023. 
Other key groupwide service improvement projects, including the Emergency Medicine Project and the Haematology Review. 
Saolta Integrated Governance Project
The need to review clinical governance structures across Saolta group hospitals is a key priority in the 2017 Operational Plan.  We want to develop clinically led/driven services that would be fully integrated across the Saolta Group hospitals, for the benefit of patients, and staff.  While there had been progress with the establishment of the four Clinical Directorates across the hospitals, there is a need to improve consistency, and clarity around roles, responsibilities, and authority.  There is also a need to ensure we have a structure in place that will include all staff across our respective hospitals. 
Key to this programme is the fundamental aim of improving quality, safety and access for all patients and standardising patient care across our hospital sites.  The new structure will also bring decision making closer to the patient and create more straightforward clinical journeys for patients across different specialities and hospitals. It will also mean that everyone is much clearer about who is responsible and accountable for services and will allow us to better use our resources across our hospitals.
A multidisciplinary working group was established with representatives from hospitals in the Saolta Group to plan for this project.  Work undertaken in 2016 included:-
A review of international best practice models.
The development of a Clinical Business Unit (CBU) concept and a number of options for consideration which were examined in detail and then "sense checked" with a panel of health care experts.
The concept was approved by both the Executive Council and the Saolta Board
During 2017, detailed planning will continue as we work towards the implementation a Cancer Clinical Business Unit and Women and Children's Clinical Business Unit during 2018. 
Saolta University HealthCare Group Strategy 2018-2023
The development of clinical strategies is crucial in setting out a clear plan for delivering clinical services across all Saolta hospitals so we can meet the existing and future needs of our communities.  As a hospital group, we have the opportunity for the first time to really examine the services provided at Group level, rather than by individual hospitals in isolation. The value of looking at particular services on a groupwide basis is that we can begin to see where there are examples of good practice, potential overlaps, gaps or inconsistencies in service which would not be as obvious if looking at a just one hospital. We can also begin to look at catchment areas, access, referral routes, clinical pathways, transfer times, risks, infrastructure, and resources from a hospital group perspective for the first time and we will be working closely with both the Population Health Department and CHOs in this work.
Throughout this our priority is to ensure a safe, staffed and sustainable service for each speciality across the Saolta Group and making the best use of all resources on each site.
The process of developing individual speciality clinical strategies across 40 clinical specialities is well underway.  This involves setting out the current service provision (or the "As Is") for each speciality across all Saolta Group hospitals and analysing best practice and future demands.  The Group Clinical Strategy and Corporate Operational Strategy, once combined will form the Saolta Group Strategy (2018 -2023).
Groupwide Service Reviews
Service reviews have taken place both in Emergency Medicine Services and Haematology which sets out an analysis of the current service provision across Saolta Group Hospitals.  The Programme Management Office will have a role in the development of implementation plans in taking forward the recommendations from each of these reviews in the further improvement of our services. 
The Next Steps
During 2017, the Saolta Group will continue to work closely with the National Programme for Health Service Improvement to implement these projects.  The Programme Management Office will provide a structured project management approach which will include:-
Establishing working groups and work-streams necessary to deliver the project outcomes.
Undertaking a comprehensive communication/ engagement plan with patients/ staff/ CHOs others at local and national level. 
Working closely with NUI Galway and others to assess the outcomes of the programme.
Saolta Group Chief Clinical Director Pat Nash, who is leading this programme noted "We are delighted to see the introduction of a Programme Management Office within the Saolta Group.  This will be hugely positive in the further integration of our hospitals and will provide a structured approach in project management and improvement initiatives.  Whilst we have a very challenging programme of work, there will be clear benefits to patients and services alike."
Jo Shortt, Programme Portfolio Manager added, "As part of this programme of work we are very conscious of the need to communicate and engage continuously both within and outside the organisation.  This will involve both face to face meetings and regular updates and we will also be setting up a webpage to keep people informed about the different projects.   We would encourage you to contact with us around your views via our email pmo.saolta@hse.ie.  Further updates will also be included in future newsletters."