You are here
First Meeting of Patient Council for Saolta University Health Care Group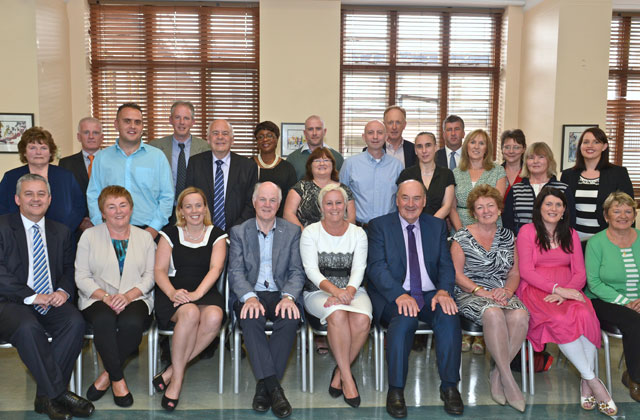 A total of 16 members of the public were appointed to the inaugural Patient Council for Saolta University Health Care Group, which had its first meeting last week.
The aim of the Patient Council is to work closely with staff to improve the experience patients have when using the services of the hospitals in the group. The Saolta University Health Care Group includes the following hospitals: University Hospital Galway and Merlin Park University Hospital; Sligo Regional Hospital; Letterkenny General Hospital; Mayo General Hospital; Portiuncula Hospital Ballinasloe; and Roscommon Hospital. 
More than 100 volunteers put their names forward and the 16 members of the public selected are: 
Gráinne Arkins, Co Clare; Kathleen Burns, Co Mayo; Gerard Costello, Athenry; John Fowley, Co Sligo; Mary Goode, Ballinasloe; Kathleen Henry, Co Sligo; Neil Johnston, Galway City; Breda Kilbane, Moycullen; Margaret Lux, Clybaun; Darragh McDonagh, Oranmore; Keith Maughan, Co Mayo; Marie Mellon, Co Mayo; Ann Nethaway, Carnmore; Helen Ogbu, Galway City; Muriel Perry, Co Donegal; and Brian Place, Claregalway.
Nominees to the Council from Saolta include the Group's Chief Director of Nursing and Midwifery, Colette Cowan; executive lead, Fiona McHugh, Head of Corporate Development; Olive Gallagher and Ellen Wiseman, UHG's Patient Advice and 
Liaison Service; Phyllis McNamara, non executive director, Saolta University Health Care Group; and Mary Lane Heneghan.
At its next meeting early in the new year the Council will elect a chair and vice chair from among the members of the public on the Council.
Colette Cowan, Chief Director for Nursing and Midwifery for the Hospital Group, stated, "We were extremely pleased with the response from the public. The Council is part of our patient and public involvement strategy and will provide a powerful, independent voice for patients, service users and communities on health service issues. We value the unique experiences that people have when they enter our hospitals and we need their feedback to continuously improve.
"The Patient Council will help us assess the current quality of service, recommend new services or changes required to existing services, review policies and procedures, oversee the development of patient involvement initiatives and help us communicate to the wider population. The Council will meet every two months with members of the executive and staff to plan the delivery of service, ensuring the patient voice counts at every level of the organisation. 
"The patient council and staff of the organisation will be involved in public engagement to ensure we have opinion on our service plans and suggestions on how we make the patient journey comfortable and of a high standard
"The patient council is endorsed by the board of Saolta University Health Care Group and the council will report quarterly through the executive lead to the Board on its progress, advising and relaying key messages to the Board on patient opinion.
"The council will be supported by the clinical directors, local management team and the patient advice & liaison service coordinators.