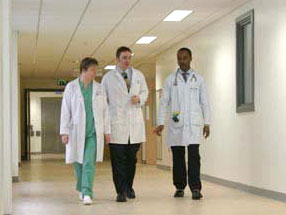 The Saolta University Health Care Group provides acute and specialist hospital services to the West and North West of Ireland – counties Galway, Mayo, Roscommon, Sligo, Leitrim, Donegal and adjoining counties.
Saolta University Health Care Group comprises of 6 hospitals across 7 sites:
The Group's Academic Partner is NUI Galway.
Vision
Our vision is to be a leading academic Hospital Group providing excellent integrated patient-centred care delivered by skilled caring staff.
Saolta Guiding Principles
Care - Compassion - Trust - Learning
Our guiding principles are to work in partnership with patients and other healthcare providers across the continuum of care to:
Deliver high quality, safe, timely and equitable patient care by developing and ensuring sustainable clinical services to meet the needs of our population.
Deliver integrated services across the Saolta Group Hospitals, with clear lines of responsibility, accountability and authority, whilst maintaining individual hospital site integrity.
Continue to develop and improve our clinical services supported by education, research and innovation, in partnership with NUI Galway and other academic partners.
Recruit, retain and develop highly-skilled multidisciplinary teams through support, engagement and empowerment.
Saolta Strategy 2019-2023
We have developed a five year strategy which outlines the vision and framework for the Group's strategic development from 2019 to 2023.
We are committed to ensuring that our patients are at the centre of all service design, development and delivery. Over the five years of the strategy we will further develop our services, both clinical and organisational based around seven key themes: Quality and Patient Safety; Patient Access; Governance and Integration; Skilled Caring Staff; Education Research and Innovation; eHealth and Infrastructure. These will be our key areas of focus to enable us to meet the future needs of our patients.
We have identified 20 priority projects across the Group which are aligned with Sláintecare's goals. They include a number of clinical and organisational projects which are focused on further improving services for our patients and staff. We will continue to work very closely with our colleagues in the community both Community Healthcare West and Community Health Organisation 1 in the North West to deliver more streamlined care to our patients in line with the national focus of bringing services closer to patients.
A key theme within this strategy and its successful implementation is the development of Managed Clinical and Academic Networks. While the tertiary referral centre for the Group is University Hospital Galway, it is essential that all our hospitals work more closely together in delivering services to address the challenges facing us across our region. These networks will ensure that specialities in individual hospitals will no longer work in isolation but as a networked team which will improve clinical quality and patient safety. It will also support collective learning/sharing of expertise and will be supported by education, training, research and audit programmes. It will result in safer, standardised and more sustainable services for our patients and improved recruitment and retention of staff.