You are here
Cardiac Surgery Study Day to take place in Galway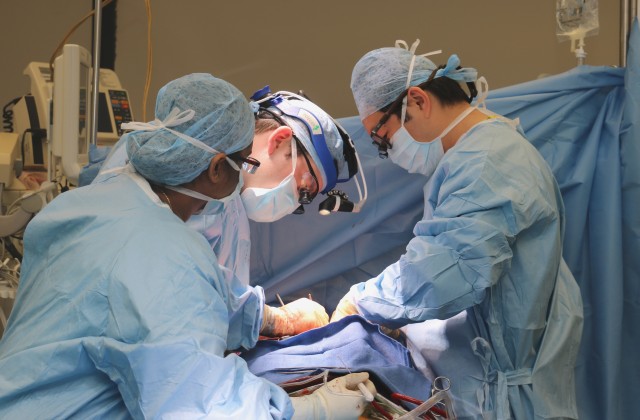 The Saolta University Health Care Group in consultation with the RCSI will host a cardiac surgery study day at the Medtronic Customer Innovation Centre in Galway on Friday, 24 November. Leading specialists in cardiothoracic surgery from the UK, Ireland and America (Mayo Clinic) will attend and provide an update to attendees on the innovations and developments taking place in their service.
The study day will provide lectures covering contemporary topics on cardiac surgery and updates on the latest technique in cardiac surgery delivered by distinguished national and international faculty. The day will also include a demonstration of the research and production of a coronary stent and transcatheter aortic valve implantation (TAVI) procedure.
Commenting, Alan Soo, Consultant Cardiothoracic Surgeon at University Hospital Galway said, "We are delighted to welcome some of the most experienced specialists in Cardiology & Cardiothoracic Surgery to Galway to share their knowledge. The day is aimed at health professionals who are involved in all stages of care for patients undergoing cardiac surgery and to further improve the understanding of cardiac surgery.  A wetlab demonstration of CABG and aortic valve replacement led by consultant cardiac surgeons will be available for those keen to attain hands-on experience in performing these procedures. This is a very exciting time for cardiac surgery and I am looking forward to hearing from our colleagues about the developments in their services and the benefits these bring to patients."
List of speakers
Dr Antoinette Neylon - Consultant Interventional Cardiologist, University Hospital Galway
Ms Ann Marie Hennessey - Staff Perfusionist, University Hospital Galway
Dr Sarah Trenfield - Consultant Cardiac Anaesthetist, Royal Brompton Hospital, London
Mr Anthony de Souza - Consultant Cardiac Surgeon, Royal Brompton Hospital, London
Mr Vincent Young - Consultant Cardiothoracic surgeon, St James Hospital, Dublin
Ms Tara Ni Dhonnchu - Specialist Registrar in Cardiac Surgery & Fellow in Robotics Mitral Surgery, Mayo Clinic, Rochester, USA
Mr Dave Veerasingam - Consultant Cardiothoracic Surgeon, University Hospital Galway
For further information on the Cardiac study day contact alan.soo@hse.ie
Photo: Alan Soo, Consultant Cardiothoracic Surgeon performing Coronary Artery Bypass Surgery with his team Ronan Kelly, Specialist Registrar in Cardiothoracic Surgery and Gauri Pahipathi, Theatre Staff Nurse, University Hospital Galway. 
The article above is specific to the following Saolta hospitals::
University Hospital Galway (UHG)