You are here
Emergency Department in Sligo University Hospital is extremely busy with long delays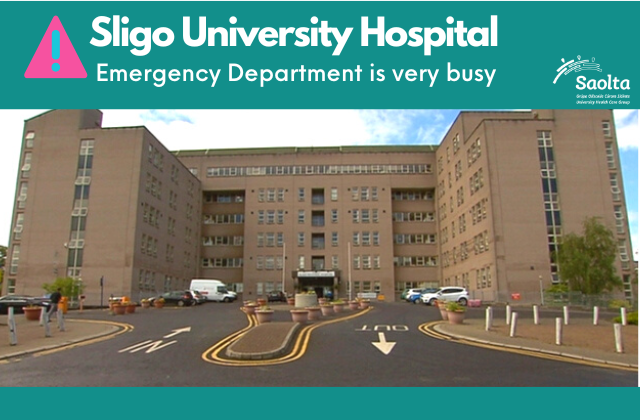 The Emergency Department in Sligo University Hospital is extremely busy today with high numbers of patients being admitted, many of whom present with complex needs requiring admission. The hospital is advising that patients who attend ED for routine and non-urgent treatment will experience very long waiting times. There are 38 patients on trolleys awaiting admission to an inpatient bed and we apologise to those patients and their families for the upset this is causing.
As always, people who do require emergency care are encouraged to attend EDs where they will be prioritised.
The high number of people attending who need to be admitted for ongoing treatment means that there is pressure on bed availability. This is resulting in significant delays being experienced by patients in the Emergency Department who are waiting for a bed to become available on a ward.
All available beds are in use. Every effort is being made to discharge patients who are ready to go home so that beds will become available for patients who need to be admitted, at the earliest opportunity.
The hospital acknowledges that these delays are very difficult for patients and their families and apologises for the inconvenience and distress these delays cause.
We continue to request that people consider other options for non-emergency care such as their local Injury Unit, Out of Hours GP and pharmacies before attending an ED.
The article above is specific to the following Saolta hospitals::
Sligo University Hospital (SUH)