You are here
Family urge greater vigilance for silent killer Sepsis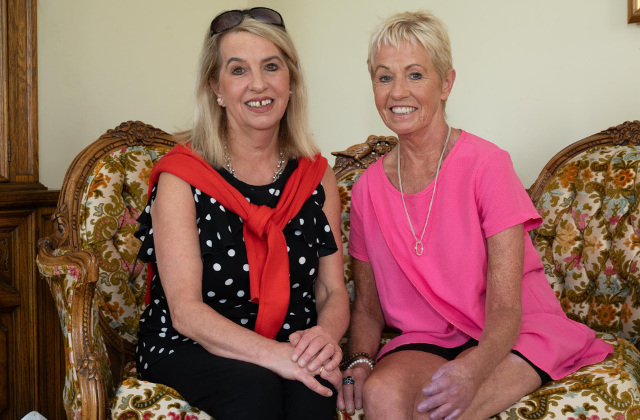 As World Sepsis Day approaches a Donegal family is urging the public to know the signs of sepsis. 
Moninne Bradley, from Killygordon in Co Donegal, was left fighting for her life last year as the result of the rapid spread of sepsis.
Had it not been for the quick actions of her sister, Nurse Orla Noonan, she would not have survived.
In the weeks leading up to her collapse, Moninne had been fighting an infection and had taken a course of antibiotics and steroids to combat it. When she later developed spots on her throat, she believed it was a side effect of the antibiotics. She returned to her GP and was started a course of tablets to treat thrush.
On the day before her hospitalisation, Moninne went to work as usual. Still concerned about a swelling that appeared on her neck, she intended to return to her GP as a precaution the following day.
"I had been fighting an infection for a few weeks but was still going to work and getting on with things. I thought I might go back to the GP to be sure but at 9pm that night I took very ill and spent the entire night vomiting," she recalls.
Her sister Orla, a nurse in Letterkenny University Hospital, was keeping a close eye throughout. However, despite her years of experience, she was left stunned by the sudden and rapid deterioration Moninne experienced.
"I saw her at 6.30m and she was standing in my kitchen talking. She was a little concerned about the lump on her neck but there was absolutely nothing alarming.
"I couldn't believe when I saw her the following morning when I came off night duty. I got the shock of my life. She had gone downhill so quickly.  She was agitated, shaking, and exhausted. She was a terrible colour. As a nurse, I have regularly checked blood pressures, but she was too agitated to accurately record.
Orla quickly rang Moninne's friend Marie for support then contacted Moninne's GP. She was so concerned that she also rang the Emergency Department in LUH and was advised to call an ambulance.
Moninne was rushed to LUH where she was treated for sepsis in ED and transferred to ICU. The following day she was transferred to UHG where her condition continued to deteriorate.
"We didn't know if she was going to make it. At one point they felt they would have to amputate her arm;" recalls Orla.
Moninne went into renal failure and lost the tips of her fingers on one hand. However, after 14 days in ICU, she began to slowly recover.
Moninne remembers nothing of her ICU hospital stay but was left stunned to discover how ill she had become.
"I had heard of sepsis but I had no idea just how quickly it could hit you. If it had not been for Orla I would not be here. I am hugely grateful to the ambulance team, ED, ICU teams and hospital staff in Letterkenny and Galway hospitals. I also want to thank my family, friends and community for all their prayers. I'm lucky I survived and I plan to mark every day of it.
"I'm still in recovery but I'm getting there. I want to make sure other families have the knowledge when it comes to sepsis," she added.
Siobhan Kelly, Sepsis Lead at Letterkenny University Hospital said: "We are taking this opportunity to make people aware of what Sepsis is and how serious it can be.
"Sepsis is a common, time-dependent medical emergency which can affect a person of any age, from any social background and can strike irrespective of underlying good health or medical conditions. However, early recognition and timely referral to critical care can have a major impact and this is the message we want to get out."
Paul Hooton, Chief Director of Nursing, Saolta Hospital Group added: "Sepsis is a silent killer. This serious condition can very quickly lead to multi organ failure and often death. However, as Moninne's story shows, prompt recognition of the condition and treatment will save lives. I urge all of you to familiarise yourself with the signs and symptoms of sepsis and never hesitate to call for help if you are worried."
Sepsis is a life threatening condition caused by an infection that affects the organs and kills one in five people who develop it. Over 13,000 patients received treatment for sepsis in Irish hospitals in 2021. If you have an infection, know the signs of sepsis. It's important to get treatment early if you need it.
More information on sepsis can be found at hse.ie/sepsis.
Further Information:
Sepsis is a serious complication of an infection. Most cases of infection lead to a full recovery if it's identified and treated quickly. Without quick treatment, sepsis can lead to multiple organ failure and death.
Call 999 or 112 or go to an ED if an adult or older child has had an infection and:
is acting confused, slurring their speech, not making sense or not their usual self
has difficulty breathing, breathlessness or breathing very fast
blue or slightly blue lips
pounding in their chest
has hands and feet that feel cold, clammy and look pale
feels dizzy, faint or loses consciousness (passes out)
is not peeing as much as normal - for example, not peeing for a day
has a rash that does not fade when you roll a glass over it, in the same way you check for meningitis
has severe muscle pain
is complaining of severe leg pain or difficulty standing
has an infection, is still unwell after 24 hours or is getting worse - it may be sepsis
They may not have all these symptoms. Even if they have just 1, get urgent medical help.
Call 999 or 112 or go to an emergency department (ED) if a baby or child under 5:
has blue, pale or blotchy skin, lips or tongue
has a rash that does not fade when you roll a glass over it, in the same way you check for meningitis
is being very sluggish, unusually sleepy and hard to wake
feels unusually cold to touch
has had no pee or wet nappies for more than 12 hours
is breathing very fast
has fits or convulsions
has a weak, high-pitched cry that's not like their normal cry
has an infection, is still unwell after 24 hours or is getting worse - it may be sepsis
They may not have all these symptoms. Even if they have just one, get urgent medical help.
The article above is specific to the following Saolta hospitals::
Letterkenny University Hospital (LUH)