You are here
Roscommon appoints Ireland's first Specialist Cancer Nurse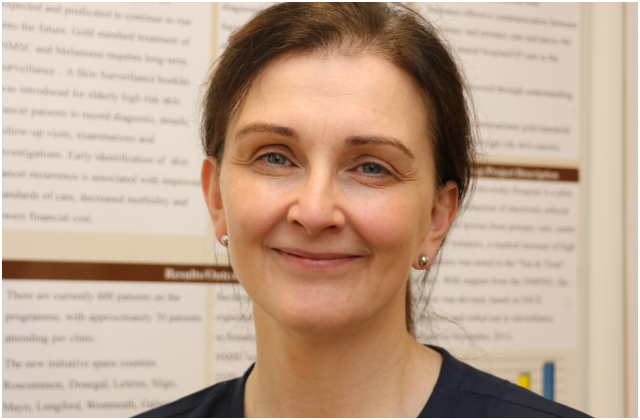 Bernadette Finneran, born in Manchester and living in County Roscommon for the last 30 years has been appointed as a Registered Advanced Nurse Practitioner (RANP) in Plastic Surgery at Roscommon University Hospital. Bernadette is the first RANP specialising in skin cancer in Ireland and is only one of three RANP posts in Plastic Surgery nationally. RANPs are the highest level of clinical experts in the nursing profession in Ireland today.
Bernadette qualified from NUI Galway as a nurse in 1997 and after completing her General Nurse training in UHG, she went on to the Rotunda Maternity Hospital where she qualified as a Midwife in 2000. Bernadette has over 20 years of nursing and surgical experience behind her. She joined Roscommon University Hospital in 2001 and her interest in plastic surgery came to the forefront when she began to work alongside Ms Deirdre Jones, Consultant Plastic and Reconstructive Surgeon in 2011.
Under the guidance and mentorship of Ms Jones, Bernadette began the journey to advanced practice by completing an advanced dermatology course in King's College London in 2014. She then completed a 2 year post graduate medicine programme in Clinical Dermatology and obtained a first-class honours Master's Degree from the University of Hertfordshire. This programme secured not only her academic qualification but ensured her lesion recognition, skin surgery skills and dermoscopy training. Upon completion of this she then undertook a higher diploma in Advanced Practice with prescribing and was awarded a first-class honours.
Bernadette's role involves the assessment, diagnosis and treatment of pre-malignant and malignant skin lesions. She is fully trained in dermoscopy, an invaluable tool in the assessment of skin lesions which enhances accuracy of diagnosis with increased sensitivity and specificity for the detection of early melanoma. Bernadette gained invaluable experience in pursuing her specialised field in the UK and Austria to ensure that optimum safe care is delivered to the patients she cares for. During her time in the UK Bernadette also trained in areola micropigmentation - a specialised technique which essentially signifies the end of a long road for our breast reconstructive patients by recreating a three-dimensional artificial nipple. This allows these patients to feel whole again and signifies the end of their cancer journey.
"Being a RANP allows me to develop as an independent autonomous practitioner and strive for continuous improvement and excellence in practice. I am qualified to assess and examine skin lesions, diagnose and prescribe treatments, perform excisional skin biopsy and wound closure and provide discharge and health promotion advice. All of this is under the clinical governance of Ms Deirdre Jones who is an inspirational mentor always striving for and achieving clinical excellence and I feel very privileged to be a member of her team", explains Bernadette.
The incidence of skin cancer is increasing and early intervention and diagnosis offers optimal care for the patient. Bernadette recognises that prevention is far better than cure and takes an active role in health promotion strategies. She introduced annual Safe Sun Awareness Days for staff and members of the public and worked with Club Rossie and the Roscommon County Senior Football Team to raise skin cancer awareness with children last summer.
Commenting on Bernadette's appointment, Ms Deidre Jones, Consultant Plastic and Reconstructive Surgeon said, "I am very supportive of the development of the RANP role and of its potential to improve access to care for patients with skin cancer. RANPs require the best available clinical and academic training to allow them to practice autonomously. Bernadette sought out an excellent course of study in the UK and showed enormous commitment and dedication to graduate at the top of her Master's Programme. She, along with our other RANPs in Plastic Surgery, Amanda O'Halloran and Deirdre Conlon, makes a massive contribution to our service in Roscommon University Hospital and this involvement is set to increase with the introduction of RANP-lead clinics and Photo Triage.
"I am privileged to work along with Bernadette, Amanda and Deirdre and I am grateful to Nursing and General Management in Roscommon University Hospital for all that they have done to support RANP training locally."
The Plastic Surgery Service commenced in RUH in 2011 and has been expanding yearly. Over 7000 patients were seen and treated by the service in 2018.
The article above is specific to the following Saolta hospitals::
Roscommon University Hospital (RUH)