You are here
Roscommon University Hospital appoints First Registered Advanced Nurse Practitioner in Respiratory Care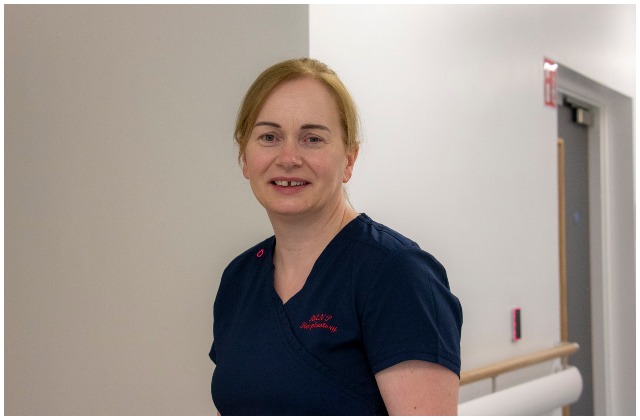 Noreen Fallon, a Roscommon native, has recently been appointed as a Registered Advanced Nurse Practitioner (RANP) in Respiratory Care at Roscommon University Hospital. Noreen is the first RANP specialising in Respiratory Care at Roscommon University Hospital. RANPs are the highest level of clinical experts in the nursing profession in Ireland today.
Noreen qualified from NUI Galway as a Registered General Nurse in 1995 and has 25 years of nursing experience. After completing her General Nurse training in GUH, she went on to work in University Hospital Galway, the Mater Misericordiae in Dublin, Merlin Park University Hospital, Hammersmith Hospital in London and at a Military Hospital in Riyadh, Saudi Arabia. She joined Roscommon University Hospital in 2004 and has always had an interest in respiratory care throughout her career.
Noreen completed a Master's Degree in Adult Respiratory Care at the University of Limerick in 2014/ 2015. She then completed training in Spirometry at the College of Science and Health at the Dublin Institute of Technology in association with the Irish Association of Respiratory Scientists in 2017.  Under the guidance and mentorship of Dr Hilary McLoughlin, Respiratory Consultant in Portiuncula University Hospital and Dr Gerry O'Mara, Roscommon University Hospital, Noreen began the journey to advanced practice and also completed a post graduate Diploma in Advanced Practice with Prescribing at NUI Galway.
Noreen's role involves the assessment, diagnosis and treatment of respiratory conditions including Asthma, COPD, Lung Fibrosis and Pulmonary Hypertension and involves working across Roscommon University Hospital and Portiuncula University Hospital where Noreen participates in Sleep Review and Respiratory Clinics.
"Becoming a Registered Advance Nurse Practitioner has allowed me to develop as an independent autonomous practitioner and strive for continuous improvement and excellence in practice. I am qualified to assess, diagnose and treat respiratory conditions.   
"I am privileged to be a member of the respiratory team and for the support and guidance from Dr Hilary McLoughlin, Dr Gerry O'Mara and Nurse Management over the past 3 years. Their work ethic and vision for respiratory services and dedication to our patients is inspirational," explains Noreen.
Mary Garvey, Hospital Manager, Roscommon University Hospital said, "Advanced Nurse Practitioners are transforming services for patients in hospitals through an expanded scope of practice, greater clinical autonomy and decision-making. Noreen's appointment is a significant development for this essential service and it will enhance high quality patient-centred care to people presenting to the hospital with respiratory illnesses."
The article above is specific to the following Saolta hospitals::
Roscommon University Hospital (RUH)