You are here
Roscommon University Hospital introduces new Feedback Manikins for CPR Training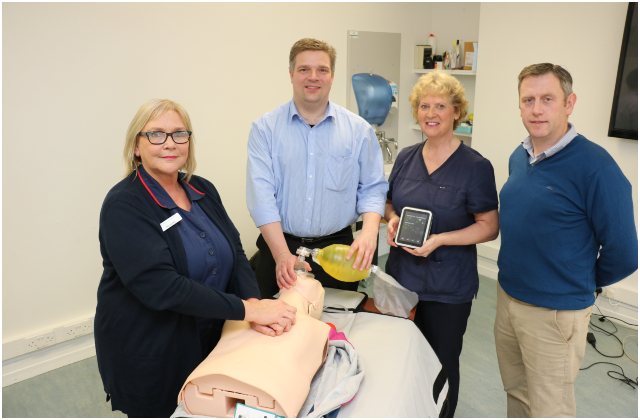 Roscommon Univeristy Hospital (RUH) have introduced new Instrumented Direct Feedback Device (IDFD) Resuscitation Manikins which will provide visual feedback on the rate and depth of compressions during Cardio Pulmonary Resuscitation (CPR) training.
Research has shown that an Instrumented Direct Feedback Device displays real-time CPR performance and significantly increases the ability to perform quality CPR; specifically to achieve the recommended rate of 100-120 compressions per minute and the recommended compression depth of 2 inches (5-6cm).
RUH is affiliated to the American Heart Association (AHA) and the Irish Heart Foundation (IHF) and is a registered training site for Basic Life Support Education (BLS). The AHA as of 31 January, 2019 require the use of Instrumented Directive Feedback Devices on all AHA courses that teach the skills of Adult Cardio Pulmonary Resuscitation.
Ann Scahill, Resuscitation Officer, Cardiac Services, RUH said, "Specific and targeted feedback is critical to students understanding and delivering high-quality CPR when faced with a cardiac emergency. Our three new manikins will allow us to monitor the skills of three students at a time and provide instant feedback as to how they are performing. Incorporating feedback devices into adult CPR courses improves the quality and consistency of CPR training which increases the chance of a successful outcome when CPR is performed."
Photo caption
Pictured with one of the new IDFD Resuscitation Manikins at RUH, from left: Margaret Kelly, Advanced Nurse Practitioner Diabetes; John Battye, Clinical Educator Cardiac Services; Anne Scahill, Resuscitation Officer and Fintan McLoughlin, Senior Biomedical Engineer.
The article above is specific to the following Saolta hospitals::
Roscommon University Hospital (RUH)