You are here
Sligo University Hospital introduces Mindfulness at Work programme for staff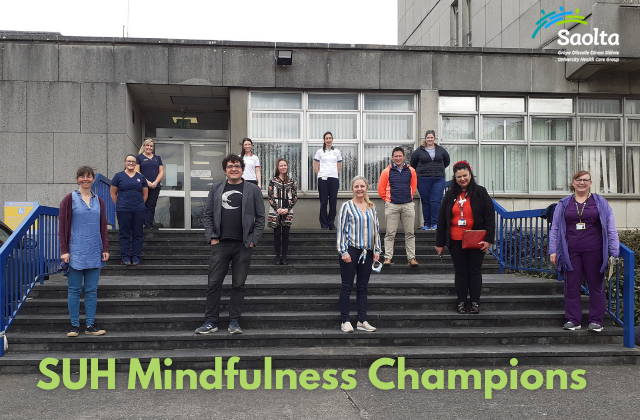 Sligo University Hospital has introduced a 'Mindfulness at Work' programme which involves training staff volunteers to become Mindfulness Champions who in turn pass on their learning to support their colleagues to bring balance and reduce stress at this difficult time.
The initiative is led by Dr Elizabeth Gethins, Consultant Psychiatrist with the Mental Health Liaison team and Teresa Donnelly, Assistant Director of Nursing with the Nursing Practice Development Unit. The hospital has partnered with Dr Paula Martin and Jared Gottlieb of BEO centre for Mindfulness and Integrated Health to provide the training to staff via zoom over the last 5 months. The Mindfulness Champions were selected from across the all departments, both clinical and non-clinical to ensure that every part of the hospital had the chance to be involved.
Dr Elizabeth Gethins, Consultant Psychiatrist said, "There is a wealth of evidence demonstrating the power of mindfulness in decreasing stress levels and burnout, which in turn improves patient care and experience. Mindfulness skills can be used by staff in their working and personal lives, and will be particularly helpful in the delivery of patient-centred care.
"We are delighted that our first group of volunteer Mindfulness Champions have just completed their training and we look forward to harnessing the very positive energy and enthusiasm that has come from that training. Our second group of trainees have just started their journey, and we are hoping to train at least three, if not more groups in the future.
"The initiative was successfully awarded SPARK funding from the HSE.  We are also very grateful to all our local sponsors who have been very generous with financial support for the project."
Grainne McCann, Hospital Manager said, "This initiative offers a form of emotional and psychological support to staff and recognises the need to integrate this support into everyday working lives. Our staff are the people who look after our patients when they are at their most vulnerable and it is important to introduce innovative ways to support them in turn."
Photo Caption:
Sligo University Hospital staff Mindfulness Champions front row from left: Dr Paula Martin; Jared Gottlieb; Anna Burke; Teresa Donnelly; Dr Elizabeth Gethins.
Middle row from left: Michelle Moriarty; Emma O'Sullivan; Mark Boland.
Last row from left: Karlene Kearns; Bronagh Kennedy; Joanne Kilfeather; Anne Marie McCaffrey.
The article above is specific to the following Saolta hospitals::
Sligo University Hospital (SUH)