You are here
University Hospital Galway launch their annual 'Sponsor a Christmas Tree Light'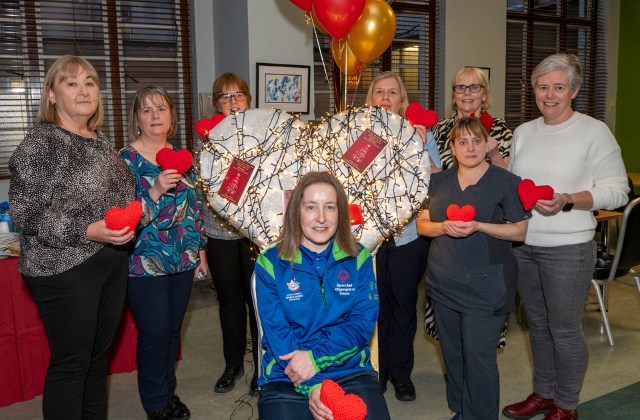 The Children's Remembrance Day Committee at University Hospital Galway (UHG) has launched their annual 'Sponsor a Christmas tree light' 2023.
A light can be sponsored on the Christmas tree at University Hospital Galway in memory of the deceased or as a gift to a loved one.  These lights give families an opportunity to remember their loved ones in a special way over the festive season.  
A triduum of Masses will be offered for all those for whom lights are sponsored
Joan Healy from the Children's Remembrance Day Committee said, "Lights on our tree can be sponsored for both the living and those who have died.  The light may be sponsored for one person or indeed for a family."
"The card for this year's lights was designed by members of the Committee and portrays the message of love; sending love from my home to yours," said Helen Hanrahan, Committee Member.  
"We are mindful that Christmas brings memories of times past and those who are no longer with us.  Sending the card to a bereaved friend or family member will let them know that they, and the deceased are remembered with love.  Many cards and lights are sent to those who will not be home for Christmas, again letting them know that they are very much in our thoughts," added Helen.
Sponsoring a light is a way to let our loved ones know they are remembered and that a light shines for them on the Christmas tree at University Hospital Galway.
Every time a light is sponsored, a Christmas card is given to the purchaser who can send the card to the person they sponsored the card for, letting them know they are remembered. Or the card representing the light can be kept in memory of a loved one who has died, or sent to their family, letting them know their loved one is not forgotten.  Each light costs €5.
The funds raised through the sale of the Christmas tree lights are used to fund and support the activities of the Children's Remembrance Day Committee throughout the year. This includes the annual Remembrance Mass for deceased Children as well as the Ecumenical Memorial Service for deceased patients and the Golden Enrolment Mass for deceased staff.  Any extra monies raised are used to enhance the services for bereaved families within the hospital. 
The lights are available to purchase through Children's Remembrance Day Committee members Anne McKeown on 087 4418574 and Helen Hanrahan on 087 7716648 until 4pm on the 10 December.
Switching on the Christmas Tree Lights 
On Sunday 10 December, the Christmas tree lights will be officially turned on, with a special guest performing the honours.  The afternoon's festivities will commence at 3.30pm with music from the Conquerors and friends.
Ends
The article above is specific to the following Saolta hospitals::
University Hospital Galway (UHG)