You are here
Bernard Jackman supporting 'End PJ paralysis' initiative at Portiuncula University Hospital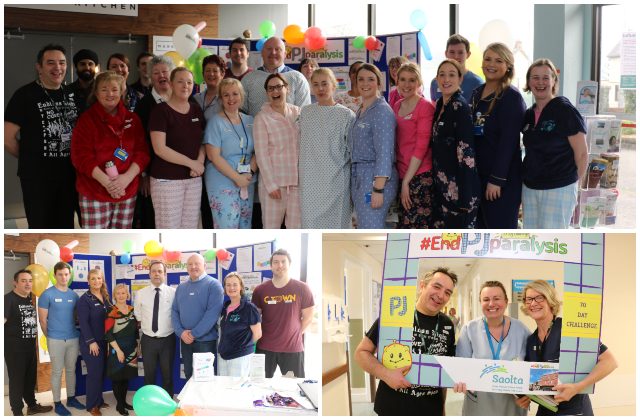 Bernard Jackman, former Irish rugby union player who played for Connacht, Leinster and Ireland showed his support for Portiuncula's 'End PJ paralysis' campaign at the hospital today.
For the next 8 weeks, staff at the hospital are focusing on getting patients who are well enough, to get out of bed, get dressed and get moving.
Speaking at the launch of the 'End PJ paralysis' campaign, Bernard said, "As a sports person, I appreciate the importance of being active to stay healthy and well. I was surprised when I learned how rapidly people deteriorate due to prolonged bed rest while in hospital. I was even more surprised to learn that a solution as simple as getting up and getting dressed could have such a positive impact on recovery."
General Manager, James Keane said, "We know that being mobile helps patients recover more quickly from illness and injury. Research has shown that 10 days in bed can lead to 10 years of aging in the muscles of people over the age of 80. At any age, muscles lose strength by being in bed for longer than needed. This is an excellent initiative undertaken by a broad range of multidisciplinary staff at Portiuncula University Hospital.
"We are encouraging all patients, where possible, to get out of bed during the day as they would at home and not just during the next 8 weeks, but during every hospital stay.
"To promote the benefits of activity, we are giving all patients a "Get Active Booklet" which includes information on the importance of remaining active and includes helpful tips and exercises that can be done while in hospital. In addition, the Physiotherapy and Occupation Therapy Departments are organising a daily active hour from 2-3pm around different themes such as Balance and Bone Health, Breathing and Brain Training.
"We also advise patients to pack comfortable clothing to change into during the day and shoes to walk in. Getting out of bed and dressed even while in hospital helps you feel better and gets you back into a normal routine more quickly. We hope that the increased focus on getting patients out of bed, up and dressed and moving will become normal routine at the hospital in the future."
The article above is specific to the following Saolta hospitals::
Portiuncula University Hospital (PUH)