You are here
Children's Remembrance Committee to hold Annual Golden Enrolment Mass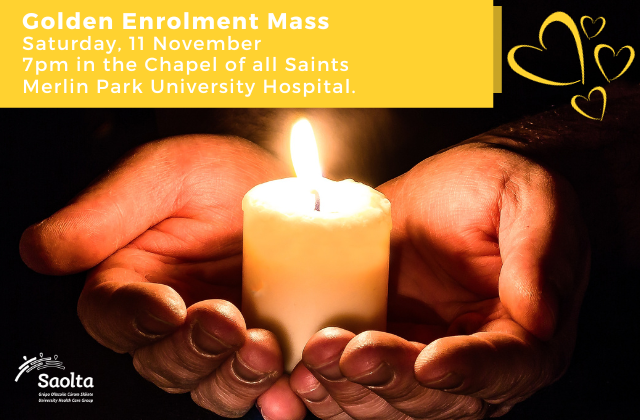 The Children's Remembrance Committee at University Hospital Galway will hold their annual Golden Enrolment Mass in memory of deceased colleagues on Saturday, 11 November at 7pm in the Chapel of all Saints, Merlin Park University Hospital.
Hospital staff will lead the mass and present a selection of readings and reflections. On the altar, the Golden Enrolment Book will be present, and a special candle lighting ceremony and minute's silence will be held in memory of all those who have died.
Joan Healy from the Children's Remembrance Day Committee said, "This is a time for us to come together to remember our deceased colleagues', their professional legacies and lasting contributions.  We recognise the loss and anguish of those touched by their absence, and we hope that knowing they are not forgotten, may bring some comfort." 
If you have a family member who worked in University Hospital Galway or Merlin Park University Hospital and would like them remembered in this mass and the Golden Enrolment Book please contact Anne McKeown on 087 4418574.
The article above is specific to the following Saolta hospitals::
Merlin Park University Hospital (MPUH)