You are here
Galway University Hospitals to hold 12th Annual Ecumenical Memorial Service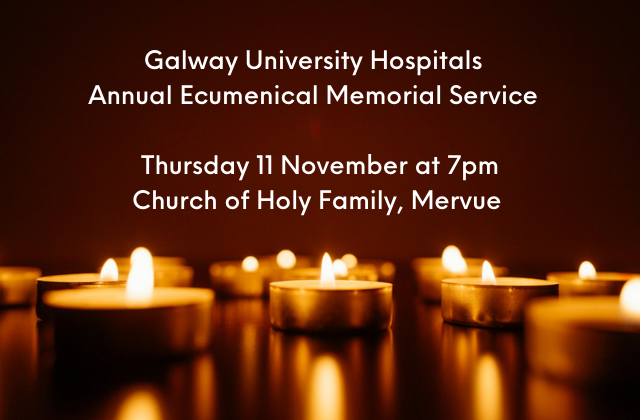 Galway University Hospitals (GUH) will hold its 12th annual Ecumenical Memorial Service on Thursday 11 November at 7pm in the Church of Holy Family, Mervue.
Anne McKeown, Bereavement Liaison Officer at GUH said, "We hope that the service will support families in the grief they are experiencing as part of their loss. Families and friends who have attended previous services have found it a beneficial experience.  Death is one of the most momentous occasions in family life and the aim of the service is to provide a spiritual space to support families in the grief they are experiencing in a supportive and empathetic environment. It also provides an opportunity for staff having provided the care to reflect and bring closure to their care of the deceased and their families.
"The committee are conscious that because of the pandemic we as a society have been unable to gather and mourn as a community.  The theme for this year's service is 'Remembering Together'. The service will be led by hospital staff who will share a selection of readings and reflections and songs while honouring the memory of our deceased patients.  The service will be livestreamed on https://www.churchtv.ie/mervue/ for those unable to attend."
To comply with public health guidance we ask that those who attend the service:
Are fully vaccinated.
Wear face masks or shields at all times.
Sanitise their hands entering and leaving the Church.
People who have COVID-19 symptoms are asked not to attend and to participate instead by joining the livestream on https://www.churchtv.ie/mervue/.
For further information or to confirm attendance, please contact Anne McKeown by calling 087 9684 271 or emailing anne.mckeown@hse.ie or Colette Goonan by calling 087 629 3952 or emailing colette.goonan@hse.ie 
The article above is specific to the following Saolta hospitals::
University Hospital Galway (UHG)