You are here
Galway University Hospitals - Winners at the Saolta Staff Recognition Awards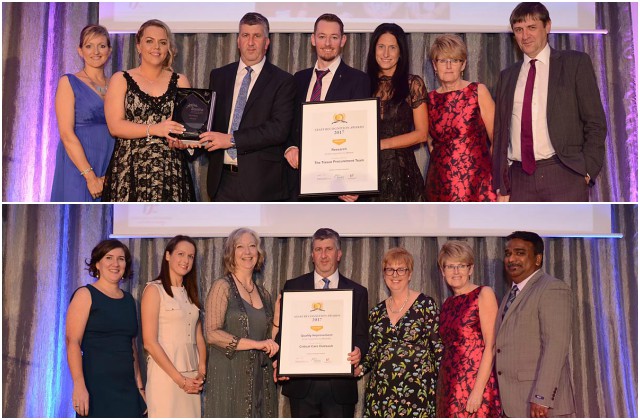 The 3rd Saolta University Health Care Group Staff Recognition Awards took place recently in the Ardilaun Hotel Galway and Galway University Hospitals were presented with two awards on the evening. The team based in the Blood and Tissue Laboratories in GUH won the research award for their work on procuring three new unique licences for Tissue Procurement – a first in the Republic of Ireland. GUH was also the winner in the Quality Improvement category where the Critical Care Outreach team won the award. This team bring the expertise of critical care to patients who may have been discharged from the Intensive Care or High Dependency Units to a hospital ward.
Over 145 projects or initiatives from services and departments across all of the hospitals in the Saolta Group were nominated in seven different categories. Winners were presented with their awards by Saolta Group CEO Maurice Power and Group Director of Nursing and Midwifery Jean Kelly.
 
Commenting Chris Kane, General Manager Galway University Hospitals said, "These awards provide an opportunity to recognise and celebrate the contribution and achievements of staff delivering services in the hospital across areas of patient care and education and research. We are delighted that four further projects were shortlisted for these Staff Recognition Awards. These projects were the serum eye drops project and the Schwartz rounds which were both nominated in the Innovation –non clinical category, the Patient Experience team and the Platelet Stock Management and Patient Flow project in the Quality Improvement category".
This is the third year of the Saolta University Health Care Group Staff Recognition Awards which aims to recognise and reward excellent staff performance, promote a sense of pride and reinforce the Saolta University Health Care Group as an excellent place to work.  Applicants from across the Group's hospitals were invited to participate in seven categories, which included; Unsung Hero category, Research, Education and Training, Clinical Innovation, Non-clinical Innovation, Patient Experience and Quality Improvement. 145 entries were received and these were shortlisted to finalists in each category by an independent judging panel. The winners were announced on the evening by event host Maura Derrane at an event attended by the finalists. The Saolta Staff Recognition Awards is self-funding from sponsorship received.
Photo caption
Photo 6960 - Caroline Hession, Yvonne Fehilly, Christine Sheehan, CNM II, Maurice Power, CEO, Helen Hanrahan, ADON, Jean Kelly, Group DON, Vinod George, Staff Nurse
Photo 6832 - Camilla Roche - Senior Medical Scientist, Maeve Wallace - Senior Medical Scientist, Maurice Power - CEO, Sean Naughton – Specialist Medical Scientist, Margaret Tarpey, Laboratory Manager & Chief Medical Scientist of the Blood and Tissue Establishment, Jean Kelly, DON, Prof. Tim O'Brien, Consultant Endocrinologist and Professor of Medicine NUIG
The article above is specific to the following Saolta hospitals::
University Hospital Galway (UHG)