You are here
The Heart of the Matter – Heart Failure Awareness at Roscommon University Hospital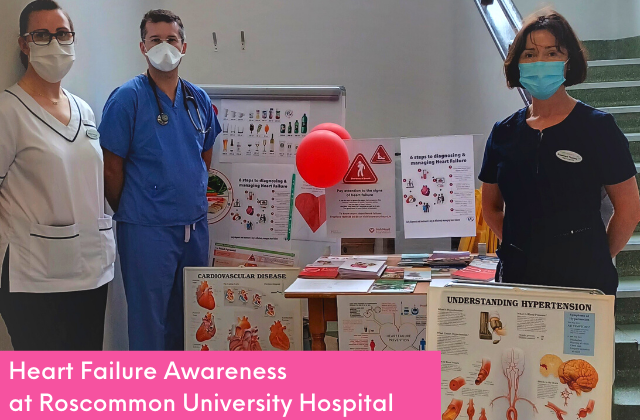 As part of Heart Failure Awareness Week (02 to 08 May), staff from Roscommon University Hospital's Heart Failure Service organised an information stand for people visiting the hospital to provide advice on the signs of heart failure and how it can be treated.
The Heart Failure Service at Roscommon University Hospital started in 2018 to provide a support for patients from Roscommon who previously travelled to Galway for treatment. Since then the service has grown and now has links with University Hospital Galway along with Portiuncula and Mayo University Hospitals. The team includes Dr Ion Ignea, Consultant Physician; Rosemary Thorpe, Clinical Nurse Specialist; Clare Murray and Eleanor Finneran, Cardiac Physiologists, Outpatient Department and Medical Day Services staff and they provide care for approximately 200 patients per year from Roscommon. The Heart Failure Service is supported by staff from Departments throughout the hospital.
Rosemary Thorpe is a Clinical Nurse Specialist in the Heart Failure Service. She said, "The term heart failure can sound frightening, but it is important that patients and family members understand the heart is not about to stop, it is just not working as well as it should or used to. It occurs when the heart cannot pump enough blood around the body, as the walls of the heart become too weak or too stiff to work properly. This can happen suddenly or can develop over months or even years.
"The most common causes are a weakened heart muscle caused by a heart attack, long-term uncontrolled high blood pressure, a viral infection of the heart, excessive alcohol intake over the years, or due to heart defects you are born with.
"The symptoms include shortness of breath, even when doing simple tasks like dressing or walking a flight of stairs; swelling in the ankles, feet, legs, abdomen, or veins in the neck; rapid or irregular heartbeat; or pressure in the chest or breathlessness when lying flat.
"Early diagnosis and treatment to control the symptoms can help people with heart failure to live full and active lives. This can be a combination of medications and lifestyle changes such as quitting smoking, staying active, watching your diet, reducing alcohol intake and keeping your cholesterol and blood pressure under control
"If anyone has concerns about heart failure for themselves or a family member, I would advise talking to your GP in the first instance who will know whether or not you need to see a hospital specialist to run tests and start treatment. There is information on heart failure available from the Irish Heart Foundation - irishheart.ie ."
Ends
Caption:
Raising awareness of Heart Failure signs and treatment at Roscommon University Hospital, from left: Eleanor Finneran, Cardiac Physiologist; Dr Ion Ignea, Consultant Physician; and Rosemary Thorpe, Heart Failure Nurse Specialist.
The article above is specific to the following Saolta hospitals::
Roscommon University Hospital (RUH)