You are here
Long COVID patient education programme in Galway University Hospitals wins National Healthcare Award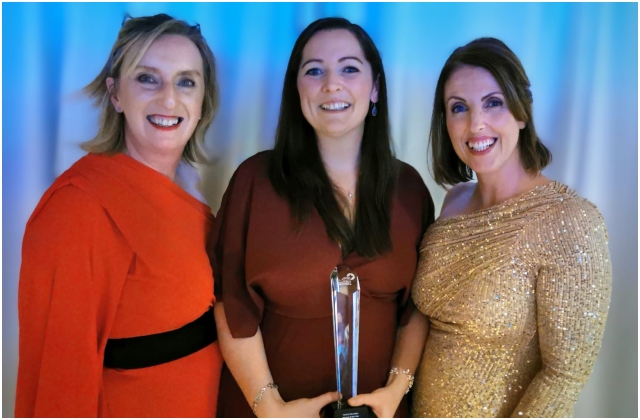 A group patient support programme developed by team members from the Long COVID and post COVID clinics in Galway University Hospitals has won the Irish Medical Times Irish Healthcare Award in the patient education category.
Long COVID is estimated to occur in 10-20% of people infected with the SARS-CoV-2 virus and people can experience a wide range of symptoms including fatigue; brain fog, non-restorative sleep, pain and breathlessness. These symptoms often impact on a person's quality of life and daily functions with work, education, parenting and self-care all being affected. The patient education programme in GUH is in place since July 2021 and aims to enable patients to manage their personal symptom profile in a supportive and structured environment. The programme uses a Multi-Disciplinary approach to help patients learn more about the condition and manage their symptoms.
The programme covers a range of areas including fatigue management, brain fog, sleep restructuring, post-exertional malaise, pacing, breathing pattern changes and relaxation. 70% of the group participants identified work as a key area of concern, with household tasks, parenting, self-care and leisure activities also being common problems among many. A problem solving approach is taken, enabling each person to apply the knowledge in a way that is unique to their symptom profile and personal circumstances.
This programme is delivered online, to make it accessible to patients across the West of Ireland, by specially trained occupational therapists and physiotherapists. The programme runs every week for one hour in duration for a total of four weeks. Referrals to the program are accepted via the long COVID clinic.
Speaking of the achievement Ciara Breen, Occupational Therapy Manager said; "After an evaluation of the first groups was completed the results showcased significant improvements in the areas targeted in the programme. These included improved fatigue, cognition, function and mood. Patient feedback has been very positive to date, and the group approach also created a firm foundation for the therapeutic relationship to flourish for those with additional one-to-one goals afterwards.
"Given the increasing evidence that recovery after COVID-19 infection is prolonged for a significant proportion of people, and has a complicated and overlapping symptom profile, this group programme highlights the value of supported self-management programs for individuals with long COVID and the feasibility of delivery of this education in an online group format.
"This programme would not be possible without the support of our Infectious Diseases and Respiratory consultants, and the dedication of our MDT in GUH. It is our aim to continue to strive towards improving care and services for patients."
Chris Kane, General Manager of Galway University Hospitals added, "This award is a recognition of the adaptability of our post COVID and long COVID clinical teams, being able to respond so innovatively to the varied needs of this patient group is a huge achievement. I want to congratulate the team and thank them for continuing to put patient care at the centre of our services."
The article above is specific to the following Saolta hospitals::
University Hospital Galway (UHG)