You are here
Mayo University Hospital appeals to public to minimise COVID-19 spread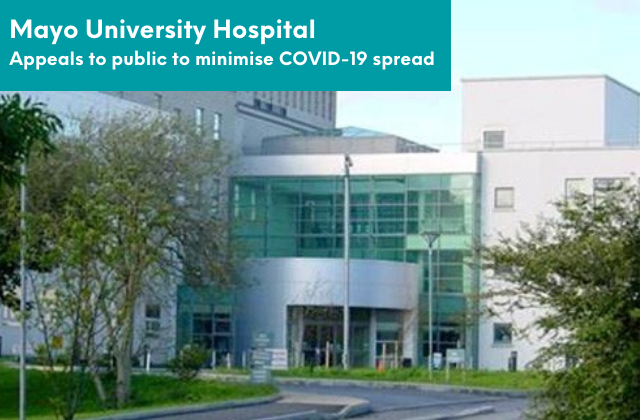 Mayo University Hospital is appealing to the public not to visit the hospital if they have any signs of COVID-19 or Flu.
Due to the increasing numbers of COVID-19 attendances at the hospital, the public is asked to limit visiting and remain vigilant while on site.
Visitors will be required to wear a high quality surgical mask and use the hand gel regularly during their visit to the hospital.
Anyone planning to visit the hospital is asked not to visit if they have any symptoms of COVID-19 or Influenza or have been in contact with anyone with COVID-19 or are awaiting the results of a COVID-19 test. 
COVID-19 is continuing to impact significantly on MUH with a steady rise in admissions.  This is also placing significant pressure on the Emergency Department and leading to lengthy patient waiting times for admission to hospital.
As a result MUH is appealing to the public to consider all care options before attending the Emergency Department, saving its use for those patients who need urgent and emergency care.
The hospital is asking the public to contact their GP during normal surgery hours or the Westdoc GP Out of Hours service in the first instance if their health problem is not urgent.
For minor injuries, the Injury Unit in Roscommon University Hospital is open from 8am to 8pm every day to treat a range of injuries in both adults and children over five years of age.
 The pressure on bed availability has also resulted in a number of elective procedures being postponed and patients are being contacted directly if their procedure is being postponed. Outpatient, ambulatory and scope appointments are proceeding as usual and people should come to their appointments unless advised otherwise.
The hospital acknowledges that delays in the Emergency Department and postponing procedures are very difficult for patients and their families and would like to apologise for the inconvenience and distress these delays cause.
Catherine Donohoe, Hospital Manager at Mayo University Hospital said: "Our hospital is extremely challenged by the rising number of COVID-19 admissions and ongoing high attendances at our Emergency Department. The current rise in cases reinforces the need for all of us to continue to adhere to the public health advice. By continuing to manage the risk for yourself you also do so for others who are more vulnerable.
"I want to thank the public for their ongoing support of our efforts to keep Covid and Flu out of our hospital. These precautions will help protect our patients and keep infections out of our hospital."
The article above is specific to the following Saolta hospitals::
Mayo University Hospital (MUH)