You are here
A new state of the art Hybrid Endovascular Theatre has opened in Galway University Hospitals to facilitate highly specialised vascular surgery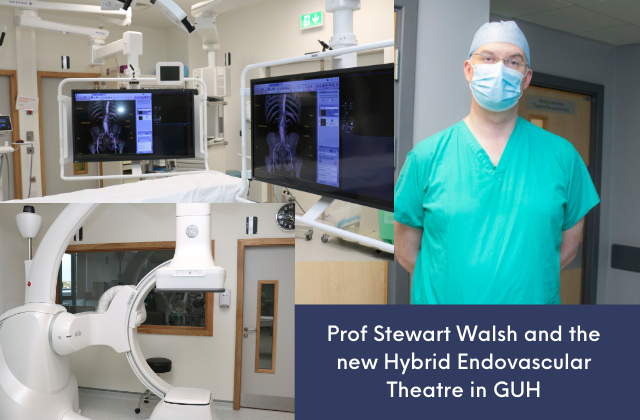 Galway University Hospitals has developed a new Hybrid Endovascular Theatre for the treatment of complex vascular conditions such as aortic aneurysms and chronic limb threatening ischaemia.
The new theatre contains high specification imaging equipment which provides superior quality images and a large field-of-view to the surgical team. This theatre imaging system allow the surgical team to have clear visualisation of the smallest vessels and devices during procedures, either static or in motion, and in challenging situations. The surgeon can plan, implement and confirm the success of the surgical procedure before the patient leaves the theatre. The system is completely motorised which allows the surgeon to work in a better-controlled environment and focus entirely on the patient.
Professor Stewart Walsh, Consultant Vascular Surgeon and Clinical Lead for the Hybrid Theatre said, "I'm delighted to be part of the team which brought the Hybrid Theatre to Galway University Hospitals. With this technology and equipment we can conduct both open and non-invasive (key-hole) vascular surgeries with a high level of accuracy and can facilitate 400 to 500 procedures per year in the new theatre. The new GE Allia hybrid system allows patients to have complex keyhole procedures in less time with much less radiation and X-ray dye, reducing their risk of skin and kidney damage. It is a huge step forward for vascular patients in the West of Ireland."
Ms Chris Kane, General Manager, Galway University Hospitals added, "As the level 4 hospital within the Saolta University Health Care Group we treat patients from a large geographical area along the West and North West coast. The development of a new theatre for specialised vascular surgery here in Galway enables our patients to benefit from new technology in order to improve their health outcomes and is an example of innovation to deliver enhanced patient-centred care."
The vascular unit in GUH is a tertiary referral surgical unit, providing vascular services across the entire Saolta Group for a population of about 800,000. The vascular unit utilises a 'hub and spoke' model for outpatients and venous interventions, providing clinics and day theatre sessions in Roscommon University Hospital, Sligo University Hospital and Merlin Park University Hospital.
The article above is specific to the following Saolta hospitals::
University Hospital Galway (UHG)