You are here
Official Opening of New Suite of X-Ray Equipment in Roscommon University Hospital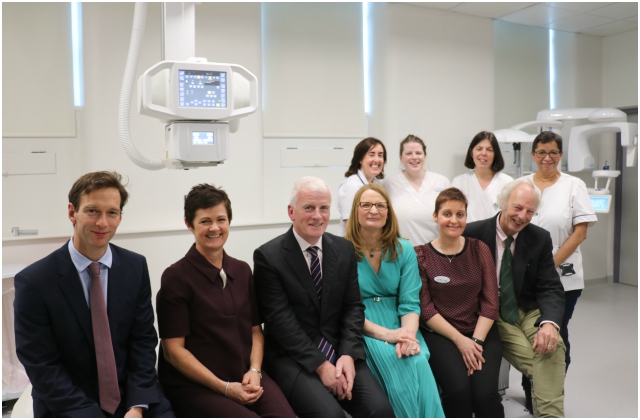 The newly upgraded X-ray suite at Roscommon University Hospital has been officially opened by Tony Canavan, CEO of the Saolta University Health Care Group. The project involved refurbishing the existing two X-ray rooms and an investment of over €465,000 in new digital equipment.
Ann Marie Healy, Radiography Services Manager at the hospital explained the significance of the investment for the hospital and patients who are treated there. She said, "We have upgraded our X-ray equipment from conventional radiography to digital radiography which means that the images obtained are of a higher resolution. The images can also be digitally enhanced to improve the image quality and diagnostic possibilities. Essentially the X-rays will provide our clinical staff with more information from a single image.
"In one of the upgraded rooms we have X-ray equipment specifically designed for dental X-rays and we have an X-ray machine identical to the one used in the National Rehabilitation Unit in Dublin. This X-ray machine is designed to be used by patients with mobility difficulties and can be used for X-raying patients who need to be moved by hoist. It also has a low fixed table for wheelchair users who can self-transfer on to the table to have their X-rays taken.
"On average we carry out 1,100 to 1,200 X-rays per month which includes X-rays of patients admitted to hospital, patients who attend the Injury Unit and patients who are referred to us directly by their GPs. We are delighted that we can provide our patients with an enhanced service using the latest technology".
Mary Garvey, General Manager added, "Upgrading our X-ray facilities is part of the ongoing expansion of diagnostic services in the hospital. This upgrade to digital X-ray equipment complements some other recent additions to our diagnostic equipment, including a complete upgrade of Laboratory Equipment in 2018, purchase of a new Echocardiograph machine for Cardiac Services in 2018 and new video scoping equipment for our Speech and Language Therapy Department in 2019.
"We are also in the process of recruiting an additional radiographer and a cardiac physiologist to expand our diagnostic services. In 2018 we welcomed Dr James McGarry, Consultant Radiologist to our team, working alongside Dr Rene Kruijt. Ann Marie Healy was appointed Radiography Services Manager in 2018 and is a driving force in developing our services alongside an excellent team of radiographers, clerical and support staff.
"The new X-ray suite will not just help us deliver the latest technology to patients now, but it is future-proofed for when the Western Specialist Rehabilitation Unit here in the hospital is operation. The Unit will be a satellite centre of the National Rehabilitation Hospital (NRH) in Dún Laoghaire and we have configured one of the X-ray rooms to be identical to the X-ray equipment used in the NRH for patients from the West who will be transferred to our hospital for their ongoing care."
Tony Canavan, Saolta CEO who officially opened the new X-ray suite said, "The investment in new radiology equipment is important for the continuing development of Roscommon University Hospital as it delivers care to patients across the wider Saolta Group region. In the past year we have seen the success of the Rapid Access Haematuria Service pilot which was introduced here as part of the National Urology Model of Care and which will be a blueprint for other Hospital Groups to follow.  We are continuing to progress the design of the new Rehabilitation Unit and we expect to have the preliminary design phase signed off by the end of this month. The feedback from patients who access services in Roscommon is overwhelmingly positive and an endorsement of the high quality service provided by the dedicated and patient-focused staff here."
Photo Caption:
Seated from left: Dr James McGarry, Consultant Radiologist, RUH; Dr Clare Roche, Consultant Radiologist, Galway University Hospitals; Tony Canavan, Saolta Group CEO; Mary Garvey, General Manager, RUH; Ann Marie Healy, Radiography Services Manager, RUH; and Dr Rene Kruijt, Consultant Radiologist. Standing from left, Radiology Department staff Martina Crosbie, Eimear Rea, Marie Conroy and Faith Munnick.
The article above is specific to the following Saolta hospitals::
Roscommon University Hospital (RUH)