You are here
Portiuncula University Hospital and Stroke Care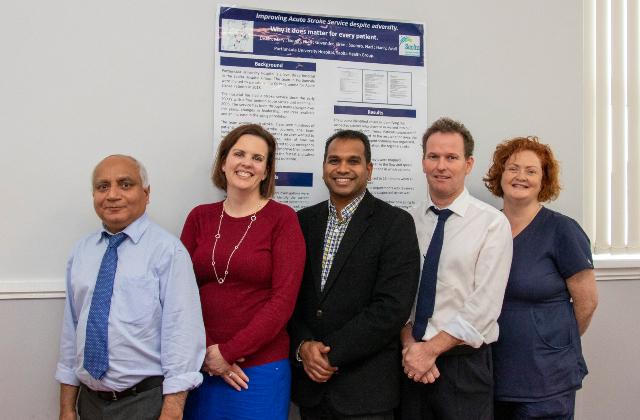 Portiuncula University Hospital is one of 10 hospitals nationally working together to improve the care of patients who present with ischaemic stroke (where blood supply to the brain is cut off or severely reduced). The quality improvement programme was developed by the Royal College of Physicians of Ireland and the National Thrombectomy Service.
Mary Diskin, Acute Stroke QI project lead said, "We were interested in participating in this project as the overall aim was to reduce the time for patients from arrival at the Emergency Department to the start of treatment if they were showing signs of stroke. Also the project was an opportunity to work with colleagues from around the country and to learn from their experiences.
"We were delighted when our participation in the project was recognised and the hospital was presented with a leadership award for our work supporting patients attending the Stroke Services at the hospital and for raising awareness of the importance of the initial contact in the Emergency Department.
James Keane, General Manager, Portiuncula University Hospital added, "A stroke can be a life-changing event. The Stroke Team at the hospital are focused on driving innovation and further education to the benefit of all our patients, as demonstrated by their participation in this national quality improvement programme.
"The Stroke Team have been recently joined by Dr Niamh Hannan, Stroke Consultant and I would like to welcome her to the hospital and look forward working with her and bringing her expertise to our patients."
The article above is specific to the following Saolta hospitals::
Portiuncula University Hospital (PUH)