You are here
Portiuncula University Hospital marks World Patient Safety Day with a focus on medication safety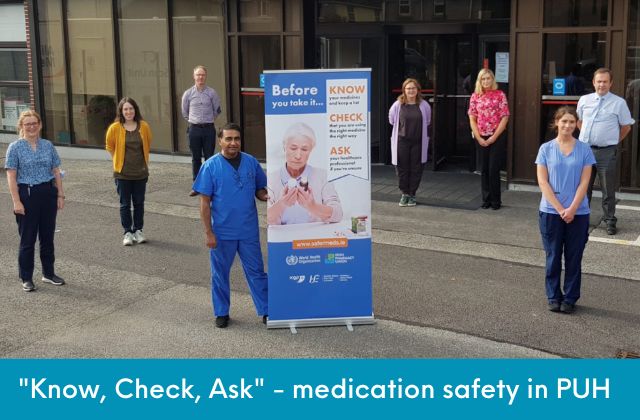 Portiuncula University Hospital (PUH) is marking World Patient Safety Day on Saturday 17 September by raising awareness of safe medication practices. The Medication Safety Committee in PUH is encouraging the public to get to know their medication better with an awareness campaign called "Know, Check, Ask".
David Walsh, Chief II Pharmacist in PUH said; "Improving communications about medicines is so important to reduce harm and misuse, on World Patient Safety Day we want to encourage our patients to play an active role in managing their medication. "Know, Check, Ask" simply means, know what medications you are taking by keeping a list; check with your healthcare professional to see if you are using them correctly and ask if you are unsure."
We all have a role to play in improving medication safety and the following tips will help patients to actively manage their medicines;
Keep an up to date list of your medicines and bring it with you if you are attending the hospital Emergency Department or outpatients clinic
This list should include your GP and pharmacy contact details and a list of an allergies
Some people find it useful to keep a photo of this list on their phone
Another option is to take a photo of your medicines with the labels in full view
It can be helpful if you share this list with a family member or carer
If there are any changes to your medication ask your doctor, pharmacist or nurse to explain what these changes mean
Dr Kiren Govender, Consultant in Emergency Medicine in PUH said, "It is really important that we know what medicines patients are taking, especially when they are attending a busy Emergency Department. By keeping a list of medicines you are helping doctors to understand your medication history which in turn reduces the risk of medication errors. The "Know, Check, Ask" campaign is a great reminder for people to always speak to a healthcare professional if they don't understand how to take the medicine they have been prescribed or what that medication is treating. In PUH we are really looking forward to further developing this important initiative for patient centred care."
Further information and a downloadable medications list can be found at: https://www.hse.ie/eng/about/who/nqpsd/patient-safety-programme/medication-safety/
Photo caption:
Members of PUH Patient Safety Committee (L to R):
Maura O Connell (Assistant Director of Nursing, PUH), Helen Heery (senior clinical pharmacist), David Walsh (Chief 2 pharmacist, medication safety, clinical pharmacy), Dr Zulfiqar Ali (Lead NCHD), Deirdre Naughton (Director of Midwifery), Sharon Donoghue (PALS co-ordinator), James Keane (General Manager PUH), Kate Shanahan (staff nurse).
Members absent from photo:
Dr Kiren Govender (ED Consultant), Dr Paul O Hara (Consultant, General Medicine & Nephrology), Aidan Fallon (Advanced Nurse Practitioner, ED), Tom Dyer (Quality & Patient Safety), Dr Nauman Ather (Lead NCHD).
The article above is specific to the following Saolta hospitals::
Portiuncula University Hospital (PUH)