You are here
Read Mór: Arts Council gift 400 books to patients in Portiuncula University Hospital for Culture Night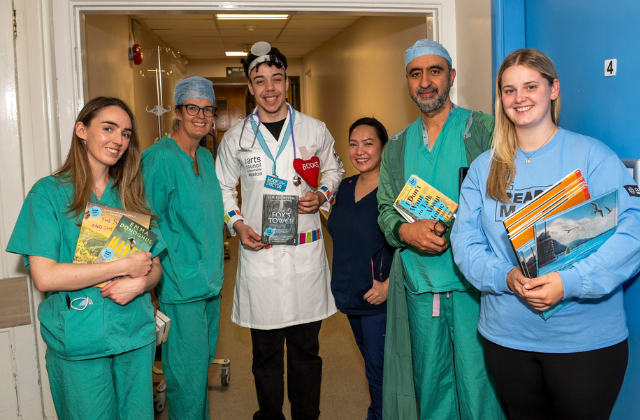 Read Mór: Arts Council gift 400 books to patients in Portiuncula University Hospital for Culture Night
Patients in selected hospitals across the country have been gifted a free book on Culture Night / Oíche Chultúir 2023 by the Arts Council
Portiuncula University Hospital (PUH) were delighted to be selected as one of seven hospitals nationally to participate in Read Mór, a wonderful Arts Council initiative to celebrate Culture Night. Last Friday staff at PUH welcomed the Read Mór Doctors and their teams to the hospital where they prescribed 400 free books from their Library Trolleys.
The Read Mór book gifting project is now in its second year and offers patients in selected hospitals across the country an opportunity to get involved with Culture Night and escape to the furthest reaches of their imagination with a choice of 29 different books by Irish based authors and publishers. This year the Arts Council is proud to partner up with HSE Healthy Ireland. Read Mór ensures that more people, in more places can enjoy Culture Night.
Once finished reading, patients are encouraged to pass on their book when they leave hospital to a family member or friend. With a wide variety being gifted, some as Gaeilge, there are titles to suit all interests and ages, from novels, short stories, poetry, memoirs, to children's and young adult books. Audiobook versions of a selection of the titles are also available.
James Keane, Hospital Manager expressed huge gratitude to the Arts Council and Healthy Ireland for bringing this event to PUH saying; "I was so pleased to welcome the Read Mór team to the hospital on Friday and I wish to thank the Arts Council and Healthy Ireland for involving our patients and staff in Culture Night.
"Cognitive stimulation is a really important component of health, wellbeing and recovery from illness. We know that staying physically and mentally active during a hospital stay helps patients to recover faster and this gift of books, which is spreading the joy of reading throughout the hospital, will be of huge benefit to our patients."
Margaret Flannery, Director of Saolta Arts said; "We were delighted to host the Book Doctors and their team in Portiuncula University Hospital for Culture Night 2023. Read Mór was a huge success and we are very grateful to the Arts Council in selecting such a variety of high quality Irish authors to share their work with patients and staff on the wards, corridors and waiting areas of our hospitals. 
"Importantly this initiative brings cultural experiences to people who cannot access other cultural activities on Culture Night through ill health or work commitments. Thank you for bringing the gift of reading to them and hopefully when they get home they will remember their hospital experience as a positive one."
Find out more about the project here: https://www.artscouncil.ie/culture-night/
Photo caption
Dr Lisa O'Sullivan, SPR, Obstetrics and Gynaecology; Dr Marie Christine De Tavernier, Consultant Obstetrician/Gynaecologist; Read Mór Representative; Ms Ron Goldaphel Alforque, Clinical Nurse Manager 1, St Clare's Ward;  Dr Naser Shayoub, Registrar in Anaesthetics and Read Mór Representative.
The article above is specific to the following Saolta hospitals::
Portiuncula University Hospital (PUH)