You are here
RUH is looking for Patient Council volunteers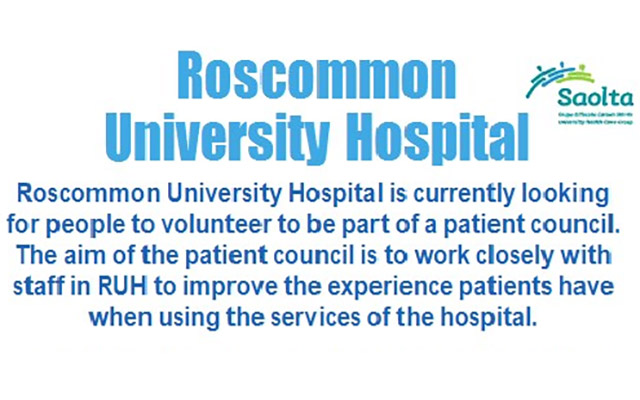 Roscommon University Hospital is currently looking for people to volunteer to be part of a patient  council. The aim of the patient council is to work closely with staff in RUH to improve the  experience patients have when using the services of the hospital.
Roscommon University Hospital is a level 2 hospital in the Saolta University Health Care Group. The Saolta Group is committed to developing and enhancing a "Patient First" culture in all its hospitals and is committed to involving public and patients in the planning and implementation of health care initiatives and establishing a patient council is an important step in achieving this.
The patient council will assist hospital management in assessing the current quality of service and recommend new services or changes. They will also review policies and procedures. The patient council will oversee the development of patient involvement in1t1atives and help us communicate to the wider population. The council will meet regularly to plan and agree improvements in the patient experience It is envisaged that between seven and ten people will part participate in the council and work with the hospital management team.
We welcome applications from anyone interested m improving our Health Services and patients experience and we would particularly like to hear from people who have had direct contact with our hospital as a patient or relative.
If you are interested in volunteering for the patient council or would ltketo find out more about what the role entails, please call Ursula Morgan Director of Nursing at 090 6632271 ursula.morgan@hse.ie 
or write to: 
Ursula Morgan,
Director of Nursing,
Roscommon University Hospital,
Athlone Road,
Roscommon 
on or before 6 October 2017
The article above is specific to the following Saolta hospitals::
Roscommon University Hospital (RUH)