You are here
Severe Asthma Clinic in Letterkenny University Hospital transforming lives of patients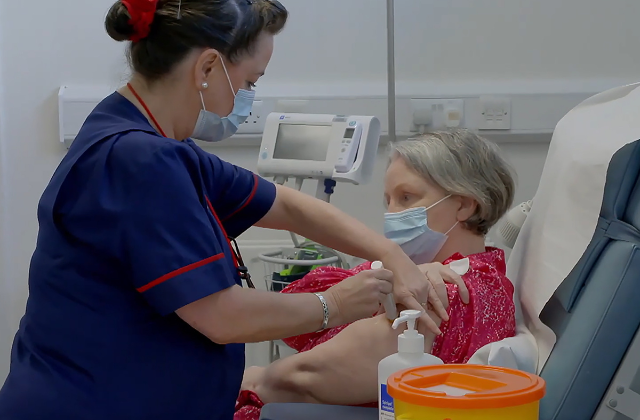 The Severe Asthma Clinic in Letterkenny University Hospital (LUH) which is changing the lives of people with the condition, has featured on a RTE television show into hospital innovations.
The LUH run clinic offers novel therapeutics and treatment for people in the region suffering from severe asthma. The treatment involves an injectable biological infusion which dramatically reduces the symptoms of the condition in some patients.
Dr Olga Mikulich, Respiratory Consultant at LUH introduced new biological infusion therapies for patients in the North West in 2018 and has witnessed first-hand the dramatic improvements in patients' lives since.
"Not everybody will be suitable for this injection but if you find the right patient and start them on this treatment the effect is so transformational. They still need to take their preventative medication including their inhalers but they have their lives back," added Dr Mikulich.
100,000 people in Ireland suffer from severe asthma. While for many this is a mild condition, one person per week in Ireland still dies from asthma. Two thirds of patients with severe asthma fail to maintain full employment because of the disease, Dr Mikulich explains.
"We can estimate that based on national average there are about 25,000 patients in Donegal living with asthma; 2,500 out of them suffer from severe asthma, again based on national and international estimations. We followed about 800 patients in our severe asthma clinic and there are 34 patients on biologic agents for their asthma, out of them 20 are on new biologics," added Dr Mikulich.
Traditional treatment for severe asthma includes oral steroids, however, frequent courses of oral steroids that are needed to control symptoms can carry a high toxicity risk. This infusion treatment provides monoclonal antibodies (lab-made proteins) which target the specific cells responsible for asthmatic inflammation in the body. Suitable patients receive the infusion once a month or once every two months depending on need.
"This has revolutionised severe asthma treatment and in patients own words 'gave them their lives back'," said Dr Mikulich.
The clinic appeared on the Hospital Live programme which ran on RTE One last month. The show received a 25pc market share, equating to approx. 200,000 viewers.
Among those who told their story was 65-year-old Bernadette McCafferty who developed severe life threatening asthma in recent years. As a result of the condition she was hospitalised on a number of occasions and faced long recovery periods.
"You would be sitting quite well one minute and then it would be like the flick of a switch. It was scary because you're opening your mouth and there is absolutely nothing going in. Nothing," she said.
"I had several spells in hospital with really long recovery periods so I just thought there is no way I can see old, old age with this," she added.
Since she began taking the infusion Bernadette's life has changed dramatically. "I've just had an art exhibition and I've just taken up cold water swimming and dipping, which I couldn't do before because of the asthma. I am now back to where I was," she added.
Letterkenny University Hospital Manager Sean Murphy praised Dr Mikulich and her team for all their work.
"The work of Dr Olga Mikulich and her team is making a real difference to the lives of asthma sufferers in our community. We are delighted to be able to showcase some of the innovative and life changing work taking place in LUH. 
ENDS
Link to RTE Hospital Live clip: https://youtu.be/s1jzl32TroE
The article above is specific to the following Saolta hospitals::
Letterkenny University Hospital (LUH)