You are here
Sligo University Hospital win prestigious Pakman Award for Waste Management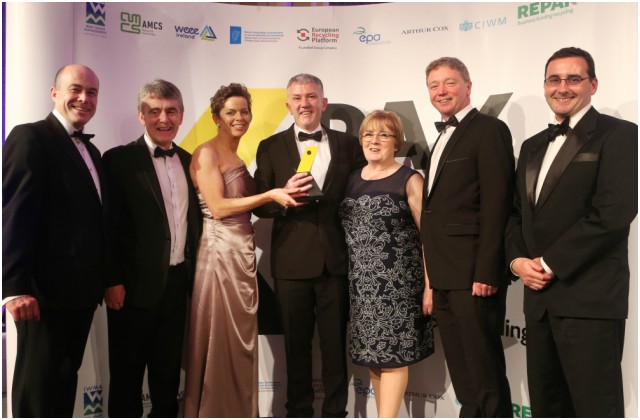 Sligo University Hospital (SUH) was named as the 2017 Winners of the prestigious Pakman award for Food Waste Management sponsored by Department of Communications, Climate Action and Environment at the third annual Pakman awards ceremony, which took place in Dublin recently. 
The Pakman awards saw 400 representatives from leading businesses, organisations and community groups come together to recognise excellence in recycling, energy and waste management.  The Pakman Awards seek to recognise complete excellence in the environmental approach taken by a business, organisation or community group in all aspects of their operations. The Pakman judging panel was looking for measurable impacts across all elements of the waste hierarchy - reuse, reduction, recycling and waste minimisation alongside environmental management of food, water, energy and biodiversity. 
Sligo University Hospital won the coveted Food Waste Management Award in recognition of a number of recent quality improvement measures and innovative initiatives to reduce food waste.  Food waste management strategies focused on waste reduction, recycling, reducing landfill and reinforcing the correct segregation of waste among staff.  Food Waste initiatives were proactively managed and driven through collaborative interdisciplinary work between the Catering Department, Waste management team and HSE Estates. 
This work is supported by through the hospitals Oral Nutrition Steering Group and Green Campus Committee. Changes such as reducing food distribution containers to match patient needs, auditing patient feedback, enhanced bedside signage, driving protective meal-times for patients, retrofitting bins for ease of handling and segregating food waste, recycling and awareness initiatives have significantly reduced food waste. These initiatives yielded over 17% reduction in food waste figures in SUH throughout 2016 with further reductions evident month on month in 2017. Leading the congratulations was Minister for Communications, Climate Action and Environment Mr. Denis Naughten: "I am delighted to be here tonight to acknowledge the excellence in environmental and sustainability efforts from such a variety of companies and industries.   
Photo Details
Food Waste Management Award 2017 sponsored by Department of Communications, Climate Action & Environment: Sligo University Hospital. L to R: Minister for Communications, Climate Action and Environment Denis Naughton TD, Michael O'Brien, HSE Estates, Patricia Lee, Service Manager SUH, Gary Streete, Waste Management, SUH, Mary Scanlon, Catering Management, SUH, Fergal McGirl, HSE Estates and Matt Collins, Assistant Secretary leading the Natural Resources and Waste Policy function at the Department of Communications, Climate Action and Environment.
The article above is specific to the following Saolta hospitals::
Sligo University Hospital (SUH)