You are here
Stroke Support Group Information Evening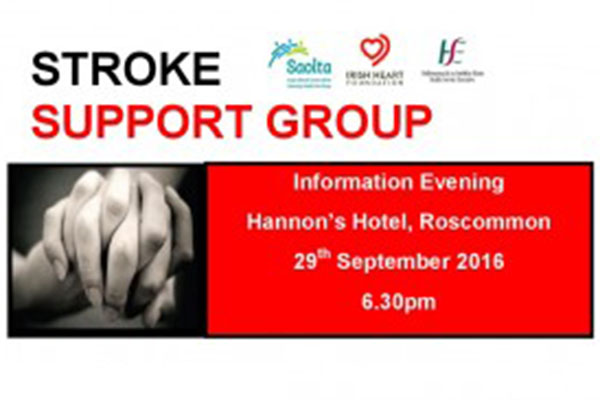 Roscommon's first ever weekly support group for stroke survivors will be launched by the Irish Heart Foundation and members of the Roscommon University Hospital stroke team at a public information evening in Hannon's Hotel, Roscommon on September 29th.
The group is the ninth in a network of stroke clubs being developed by the Irish Heart Foundation around the country after research among stroke survivors revealed the high importance they place on weekly support to aid their recovery.
The aim of the Group is to offer support, assistance, advice and physical therapies, as well as a social outlet, to stroke survivors and their carers. Weekly meetings will commence in October. Membership is free and will be open to anyone who has had a stroke, or been affected by the condition.
Commenting on the launch of the initiative, Dr. Gerry O'Mara, Consultant Physician in Roscommon University Hospital said: "A stroke is an illness in which part of the brain is suddenly severely damaged or destroyed. Strokes affect different people in different ways, depending on the type of stroke, the area of the brain affected and the extent of the brain injury, and the impact can range from very mild to severely devastating.
"Rehabilitation and support services are crucial in helping to minimise the effects of stroke and reduce the impact on the person's and family's lives. We are delighted to partner with the Irish Heart Foundation to provide a weekly Support Group to all those in Roscommon affected by stroke."
Chris Macey, head of advocacy in the Irish Heart Foundation added: "There are more than 50,000 people in Ireland living with the effects of stroke. Research carried out for the Irish Heart Foundation by the Royal College of Surgeons in Ireland shows that weekly support groups are vital in assisting stroke survivors to regain their independence and improve their quality of life. We are determined to ensure that stroke sufferers in Roscommon and every community in the country have access to a support group."
The article above is specific to the following Saolta hospitals::
Roscommon University Hospital (RUH)