You are here
National Hyperbaric Medicine Unit at University Hospital Galway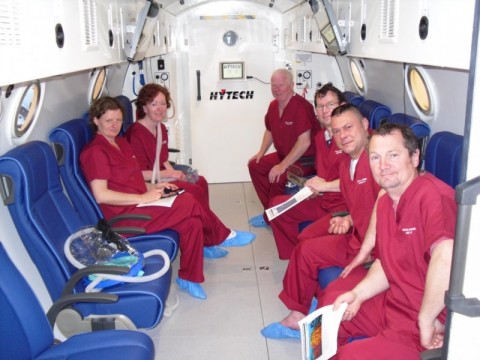 Hospital Location:
University Hospital Galway
What is Hyperbaric Oxygen?
Hyperbaric Oxygen Therapy (HBOT) is a treatment in which 100 percent medical grade oxygen is administered while the patient rests comfortably in a sealed chamber pressurized to 2.4 – 4.0 times the normal atmospheric pressure. 
The chamber is staffed by a multi -disciplinary professional team composed of intensive care nurses, advanced paramedics, anaesthetic doctors and the Galway sub aqua club. 
The National Hyperbaric Medicine Unit has a spacious 10 person hyperbaric chamber.
Medical Emergencies
•    GAS EMBOLI
•    CARBON MONOXIDE POISONING 
•    NECROTISING FASCITITIS 
Decompression Illness
Signs and Symptoms
•    JOINT PAIN
•    SKIN RASHES
•    UNUSUAL FATIGUE
•    NUMBNESS AND TINGLING
•    DIZZINESS
•    VOMITING
•    PARALYSIS
•    CHEST PAIN
•    SHORTNESS OF BREATH
•    ARTERIAL GAS EMBOLI
•    VISUAL DISTURBANCES
•    PERSONALITY CHANGES
SYMPTOMS OF DCI ARE SO DIVERSE THAT ANY SYMPTOM THAT CANNOT BE READILY EXPLAINED AFTER DIVING SHOULD BE ASSUMED TO BE DCI.  IT IS POSSIBLE TO HAVE DCI AFTER A NORMAL DIVE.
Contacting the team
For emergencies, contact the UHG switchboard at 091 524222 and ask for 3rd on-call Anesthetist
For non urgent queries, please contact Barbara on 091-544074 or email here