Assisted Decision Making
26th of April 2023 has been set as the day for the abolition of wardship, the operationalisation of the Decision Support Service, and the introduction of a new system of tiered decision-making supports. For more information please visit the following links: 
Volunteering in Mayo University Hospital 
Volunteer With Us
The MUH Volunteer Service has had over 50 members of the community participating in the scheme since its inception in March 2012, with volunteers ensuring patients and visitors have a warm, friendly welcome and are assisted with directions and any information needed.
Our Meet and Greet volunteers are members of the public from various walks of life - what they offer is a willingness to help others accessing acute hospital services. Please consider joining our volunteer team and help us:
Give a friendly welcome and a reassuring first impression to all who enter the hospital
Observe for and offer assistance to people who look lost or unsure of where they are going
Provide directions
Ensure patients are in the right queue for outpatients/x-ray etc
Assist with accompanying patients to various departments
Supply information and answer queries, for example visiting times, shop opening times
Catherine Donohoe, Hospital Manager said, "Patients are at the heart of everything we do and this is most true for our volunteers who demonstrate this in the care, laughs and smiles that they exchange with our patients. Our volunteers bring the energy and enthusiasm of members of the local community who want to give something back, into the hospital."
If you wish to volunteer with us, you can discuss with Brendan Coyne, our Lead Volunteer on 086 155 0035 and/or please complete this form and send back to the Patient Engagement & Partnership Improvement Coordinator, Quality and Patient Safety Department, Mayo University Hospital, Castlebar, Co. Mayo, Ireland, F23 H529 or via email to Ciara.McLaughlin1@hse.ie 094 904 2171
If you need any additional support with the application process, Ciara or Brendan will be happy to support you.
Download the Volunteer Service application form here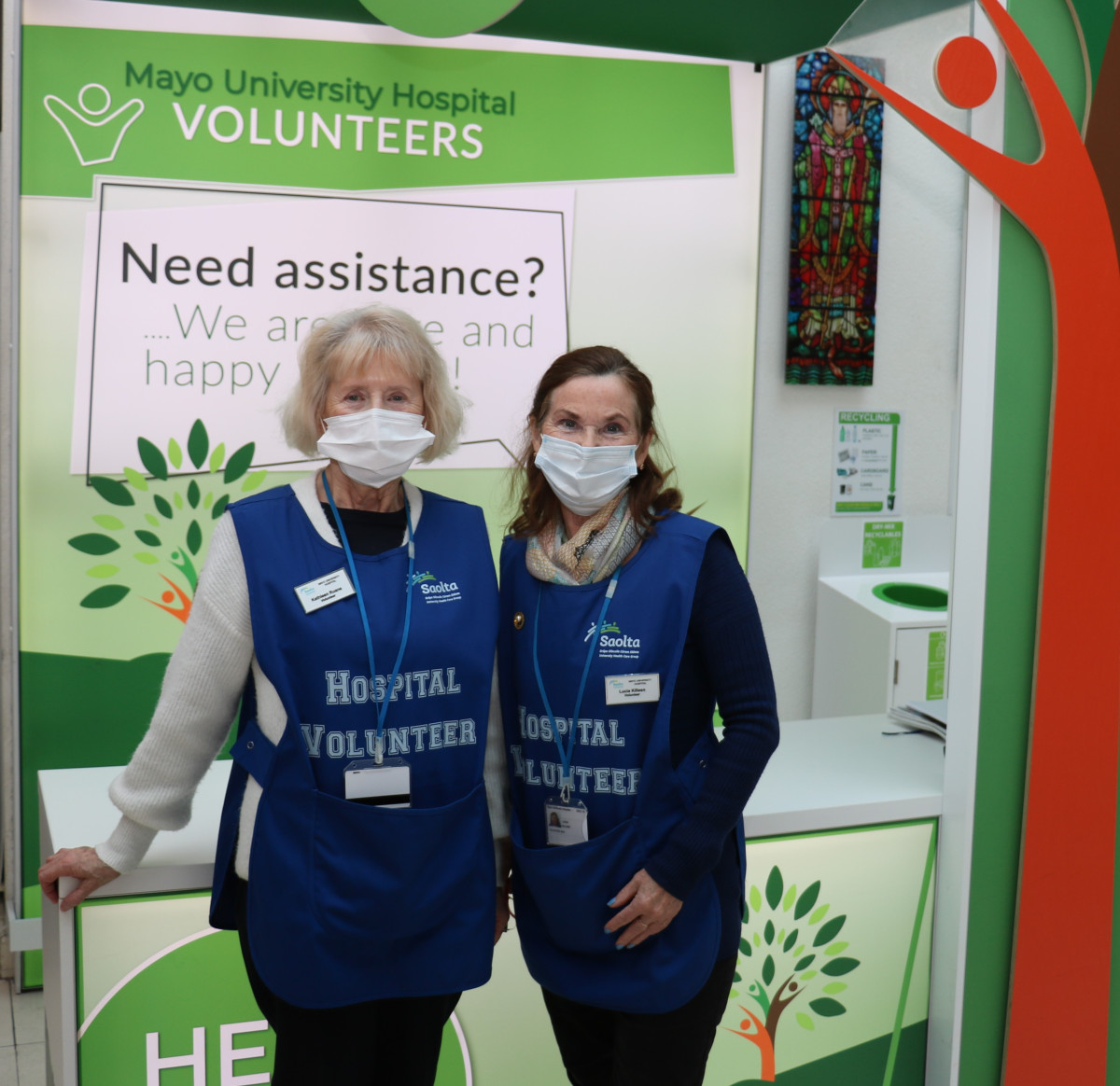 MUH volunteers - Lucia Killeen and Kathleen Ruane