You are here
'Getting to know what matters to me' communications passport launched in Donegal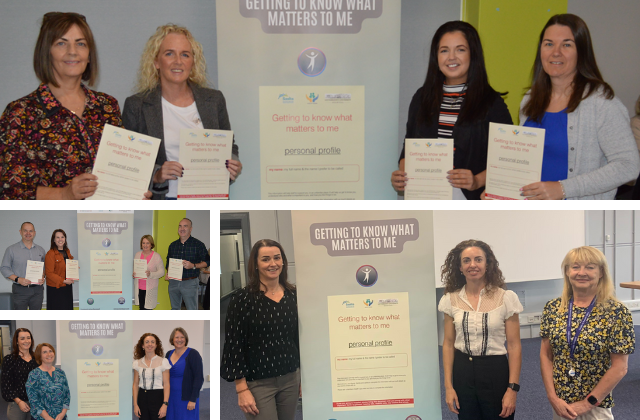 Letterkenny University Hospital and Community Healthcare Cavan, Donegal, Leitrim, Monaghan, Sligo are pleased to present the new 'Getting to know what matters to me' communication passport for people living with dementia.
National and international research confirms that admission to an acute hospital can be distressing and disorientating for a person living with dementia.  A patient communication passport is a recommended formal system to collect information pertinent to caring for the person living with dementia and should be routinely used to improve the provision of person-centred care (Irish National Audit on Dementia (INAD-2, 2019). 
This document supports a person who is receiving professional care, who cannot easily share information about themselves and who may have specific needs or preferences. A person living with dementia may require enhanced care to support their stay in hospital. The person along with their family or carers are invited to record information in the communication passport, for example; likes and dislikes, their background, the important people or places in the person's life and their normal routines and abilities.
The document helps hospital staff to get to know and better understand the person in their care and how best to respond to their needs.  It is kept at the patient's bedside so it is readily accessible to all staff.  It should travel with the person and be available for use when the person is experiencing any episode of care. 
The Registered Advanced Nurse Practitioner (RANP) Service for Older Person Care in Letterkenny University Hospital (LUH) decided to introduce the 'Getting to know what matters to me' communication document as a quality improvement initiative. This was linked with the introduction locally of the national integrated care dementia pathways and acute hospital delirium pathways.
Interdisciplinary colleagues from LUH and community services reviewed national and international document versions and adapted one document for use, county-wide. The nurse practitioner's also met with a person living with dementia who felt very strongly that 'it was really needed' and expressed that we 'need the voice of the person clearly documented'.
Alzheimer Scotland and Connolly Hospital kindly granted permission to adapt their 'Getting to know me' document with funding supported by the local Nursing and Midwifery Planning and Development Unit. The name of the document also supports the HSE quality initiative 'What Matters to You' reflecting that the person is central in quality care.
Through the Integrated Care Programme for Older Persons (ICPOP) Donegal Dementia Work Stream, discussions were had on how to build awareness and consistency of the use of this document across all services that support people living with dementia.  It was agreed that the use of the 'Getting to know what matters to me' communication passport would be promoted and used by the Older Persons Services, Community Health Network, ALONE, Alzheimer's Society of Ireland and Memory Technology Resource Room services.
Registered Advanced Nurse Practitioner's Graceann O'Donnell said: "We have seen the positive benefits of using this document in hospital.  One example of how the document worked well was when staff reported that one of their patients with dementia was declining to get up in the morning or eat breakfast. When the family completed the 'Getting to know what matters to me' document it was evident that the gentleman ''never got up before 12'' and ''never liked porridge''.  This information informed staff to leave care till later in the morning and provide an alternative breakfast choice."
"These are very simple, yet very effective ways to improve the person's hospital care experience and prevent further distress," added fellow Registered Advanced Nurse Practitioner Olivia Harte.
Dawn Thompson, The Alzheimer Society of Ireland Dementia Adviser for Donegal North & East said: "It brings me great joy to see the Launch of the "Getting to Know What Matters to Me" communication passport. The ASI ensures that the voice of people living with Dementia is present in their care, and this document will allow people with Dementia the ability to get the care they need in unfamiliar situations."
The communication passport has also been welcomed by family members of people living with dementia.
"I found the 'Getting to know what matters to me'  document to be an invaluable tool in assisting the carer to care for a patient with dementia in a personalised, more informed and compassionate way. I completed the document providing a snapshot of my uncle's life, family, interests, likes and dislikes.  One day I visited him in hospital and his carer was playing his favourite music (The Chieftains) and he was lying back much more relaxed and content listening to the music. The carer couldn't have done this without the information in the document," they added.
Sean Murphy, Hospital Manager of LUH praised staff for rolling out the initiative.
"This fantastic new initiative focuses on driving innovation and further education to benefit our patients. It is important that we have greater supports in place to ease the journey through our hospital for our patients. Ensuring we have processes to assist in meeting the needs of our patients is a priority for the hospital." he added.
The passport is available for download at: https://www.saolta.ie/documents/luh-getting-know-what-matters-me
The article above is specific to the following Saolta hospitals::
Letterkenny University Hospital (LUH)