You are here
"My Stroke Journey" book launched in Mayo University Hospital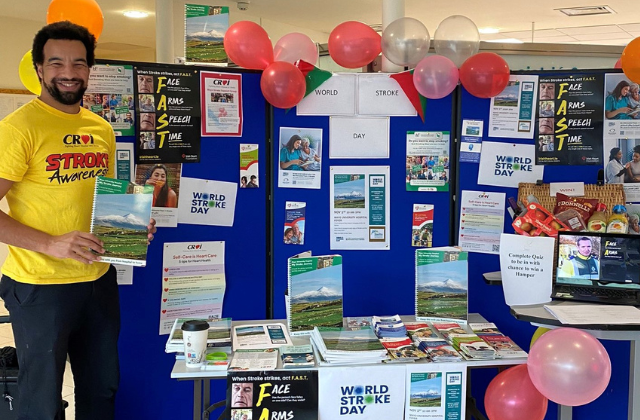 Mayo University Hospital marked World Stroke Day this week by launching a book containing resources and supports for stroke patients and their families. The book, called "My Stroke Journey", is a 67-page guide to all aspects of this life-threating condition, developed by the multi-disciplinary stroke team in MUH in collaboration with patients.
The book is designed to help stroke survivors and families to understand and manage their diagnosis during their admission to hospital and also directs patients to the supports available in the community on discharge from hospital.
Stroke is the second leading cause of death in the developed world, the leading cause of acquired adult physical neurological disability in Ireland and a major cause of dementia, depression, falls, loss of independent living and institutionalisation in later life.
Approximately 7,500 people in Ireland suffer from a stroke each year and it is estimated that over 30,000 are living with some form of disability post stroke in Ireland.
"My Stroke Journey" includes general information on stroke, types of stroke, treatments and hospital stay, how stroke may affect a person, how to manage your stroke lifestyle and medical risk factors and discharge planning. It also includes a directory on local and national supports available to stroke survivors, their families and carers. In the book, patients will find important checklists and questions to ask healthcare professionals about their stroke.
Speaking about the development, Niamh Kelly, Senior Occupation Therapist in MUH said, "A diagnosis of stroke can be an overwhelming experience for a person due to the shock of their diagnosis, and people may also have to cope with the effects of stroke which can impact on their daily activities. We developed the stroke book with the aim of providing patients, their loved ones and friends with information on what to expect while they are in hospital. It will also act as a valuable source of information on local and national peer and healthcare support groups and services when they are discharged from hospital to assist in their continued stroke journey."
Catherine Donohoe Hospital Manager MUH said, "A stroke is a life-changing event for many and it's crucial that we empower and enable patients to be active participants in their recovery and future care. This resource gives our patients access to support and information to aid their rehabilitation and recovery but also provides hope and positivity from the patient experts who worked with the MUH stroke team on this project.
"One of the most impressive aspects in this book is the insights of the eight patients who contributed their personal stories. In MUH we strive to develop our services in partnership with patients and an understanding of a patient's lived experience is really important in how we plan, deliver and evaluate healthcare."
"My Stroke Journey" is available to all patients in MUH and can be downloaded here: https://saolta.ie/sites/default/files/publications/MUH%20My%20Stroke%20Journey%20book.pdf
The article above is specific to the following Saolta hospitals::
Mayo University Hospital (MUH)