You are here
Eight new radiographers join the team at Mayo University Hospital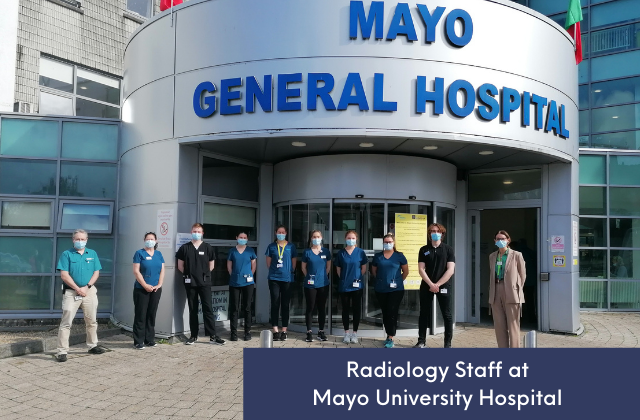 The Radiology Department in Mayo University Hospital has added eight new radiographers to their team in recent months bringing the total number of radiographers to 33. The additional radiography staff and increased capacity within the unit is already having have a positive impact on service delivery in the hospital. As an example, the number of patients referred from GPs awaiting an X-ray appointment has dropped from over 1000 in August to approximately 200 now as a direct result of the additional radiography staff and there is also increased activity in MRI, CT and Ultrasound.
MUH Radiology is a busy department which includes the Emergency Department X-ray room and the main radiology unit providing inpatient and outpatient services to the hospital. The unit works with Community Healthcare West to deliver satellite X-ray and ultrasound services in Ballina, Belmullet and Claremorris Primary Care Centres. The department also provides mammography services including an outreach service of the Symptomatic Breast Clinic in University Hospital Galway.
Eddie Conran, Radiography Services Manager said, "It is very welcome to bring additional radiographers into the department at a time when we are looking to increase radiology activity. The drive and enthusiasm from the new staff is infectious and it gives the rest of us great energy to see these new radiographers coming up and pursing their careers with us.
"As well as several new graduate radiographers we have also hired some very experienced senior CT and MRI qualified staff which will greatly boost our service. I hope they all enjoy a long a successful career with MUH."
Sean Foggin, Graduate Radiographer has recently joined the team in MUH. He said, "It has been a really great experience for me to work alongside such dedicated people who are also so knowledgeable. The staff are really friendly but also they take the time to teach you and make you a better practitioner."
Catherine Donohoe, General Manager of Mayo University Hospital added, "We are delighted to have our newly qualified graduate staff joining the Mayo University Hospital Radiology team. This is a great development for the Radiology Service at the hospital and means improved access for patients attending the hospital and our community services and faster diagnosis for patients in hospital as well as for patients in the community."
Photo caption:
The new Radiology Staff at Mayo University Hospital with ED Consultant Dr Jason Horan and Hospital Manager Catherine Donohoe, from left: Dr Jason Horan, ED Consultant; Tina Monaghan, Senior CT Radiographer; Sean Foggin, Graduate Radiographer; Niamh Guilfoyle, Radiographer; Christine Tierney, Senior MRI Radiographer; Clíodhna Finn, Radiographer; Roisin McDonagh, Radiographer; Emma Moran, Radiographer; Jonathan Giblin, Graduate Radiographer; and Catherine Donohoe, Hospital Manager.
Note to Editor:
This video provides an overview of Radiology Services at Mayo University Hospital: https://youtu.be/qK-qYQCiztE
The article above is specific to the following Saolta hospitals::
Mayo University Hospital (MUH)