You are here
First Phlebotomist post for Roscommon University Hospital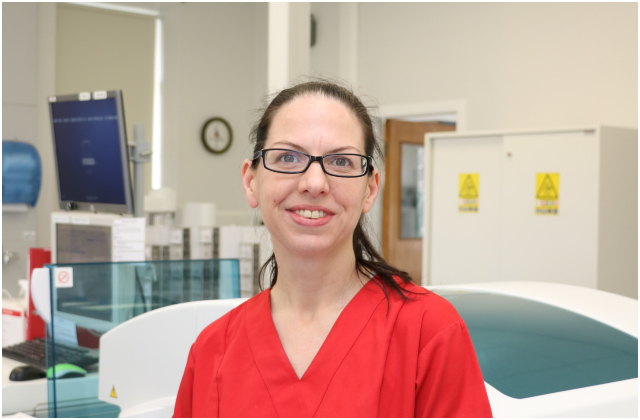 Roscommon University Hospital (RUH) welcomes Niamh Bates, the first Phlebotomist to be appointed to the hospital.  Niamh joins the Laboratory Department and her addition to the service will provide all departments within the hospital with more timely access to blood results.
Phlebotomists are trained to draw blood from a patient (mostly from veins) for clinical or medical testing.
Commenting Mary Garvey, General Manager, RUH said, "I am delighted to welcome Niamh to our team here in Roscommon. Phlebotomists are a key element in health care teams and this new appointment will support and further enhance the phlebotomy service at RUH."
Niamh completed a Diploma in General Nursing in the former Midland Health Board in conjunction with Athlone Institute of Technology from 1999-2002 prior to working in the Midland Regional Hospital in Tullamore as a staff nurse. She successfully undertook a BSc. in Nursing in the Royal College of Surgeons in 2004 and is also a registered Midwife having completed a Higher Diploma in Midwifery in Trinity College in conjunction with the Coombe Women's and Infant's Hospital from 2013-2015.
In 2011, Niamh completed an approved programme in Cannulation and Phlebotomy from the Nursing and Midwifery Board of Ireland and developed her training in phlebotomy and cannulation while working alongside the phlebotomy team in the Midland Regional Hospital in Tullamore.
Niamh states, "I have always had an interest in Phlebotomy; it is one of the most commonly performed invasive procedures in our hospitals. I love working with people one-on-one and to be part of a lifesaving process is very rewarding.
"I completed a Higher Diploma in Clinical Teaching in Health Sciences and a stand-alone module in Infection Control (Microbiology) and I hope to incorporate my learning into developing programmes to assist staff to perform phlebotomy and cannulation.
"I am really looking forward to working with my colleagues in the Laboratory across the hospital and with other Phlebotomy Departments within the Saolta Group."
The article above is specific to the following Saolta hospitals::
Roscommon University Hospital (RUH)