You are here
Galway Hospitals supporting UNICEF's Childhood Immunisation Programme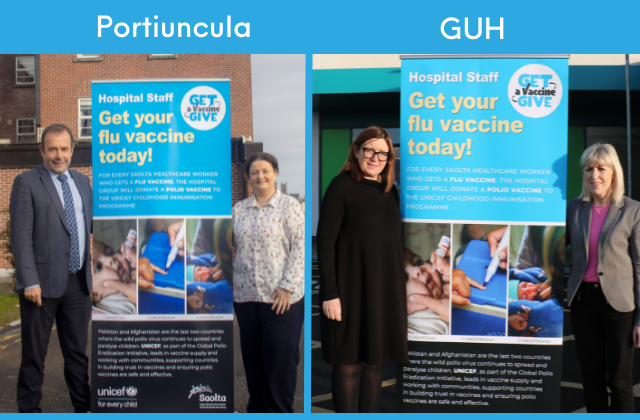 This year staff working in Galway and Portiuncula University Hospitals are supporting UNICEF's Childhood Immunisation Programme through the 'Get a Vaccine, Give a Vaccine' initiative.
For every member of staff who gets a flu vaccine, the Saolta Hospital Group will donate polio vaccines, to vaccinate one child, to UNICEF to support their global eradication initiative which includes Pakistan and Afghanistan, the last two countries where the wild polio virus continues to spread and cause paralysis among children.
James Keane, Manager at Portiuncula University Hospital said, "I am delighted that we are in a position to take part in the 'Get a Vaccine, Give a Vaccine' once more. I strongly encourage all staff here in Portiuncula to get their flu vaccine early so that they are protected as soon as possible. The flu vaccine helps us to protect our patients, our families and each other here in the hospital."
Ms Chris Kane, Manager at Galway University Hospitals said, "Immunisation is key to protecting us and those around us from many serious and potentially deadly diseases and this has really been brought home to us this year. Polio has been eradicated in most countries because of childhood immunisation programmes and we are very pleased to be able to help UNICEF in their efforts to supply polio vaccines safely and support the life-changing impact that vaccines can have for children on a global scale."
UNICEF Executive Director, Peter Power added, "Every year UNICEF procures and distributes over 1 billion doses of polio vaccines and since 1988, the number of children affected by polio has reduced by 99 per cent – from 350,000 cases in 125 countries, to fewer than 200 cases today in just two countries.
"However, polio virus transmission is expected to increase in Pakistan and Afghanistan and in many under-immunised areas of Africa. In addition to interruptions to vaccination campaigns caused by the COVID-19 pandemic, many of these children live in remote, fragile and conflict-affected areas which makes reaching them with vaccines more difficult. Failure to eradicate polio now would lead to global resurgence of the disease, resulting in as many as 200,000 new cases annually, within 10 years.
"The support we are receiving from staff in the Saolta hospitals will really make a difference to our polio vaccination programme at a time when COVID-19 is disrupting life-saving immunisation services and putting children at risk."
Photo Captions:
Portiuncula University Hospital
James Keane, Hospital Manager with Mary Mahon, Acting Director of Nursing at Portiuncula University Hospital.
Galway University Hospitals.
Marie Burns, Director of Nursing with Chris Kane, Hospital Manager at Galway University Hospitals.
The article above is specific to the following Saolta hospitals::
University Hospital Galway (UHG)