You are here
Get Up, Get Dressed, Get Moving at Mayo University Hospital! #GUGDGM2021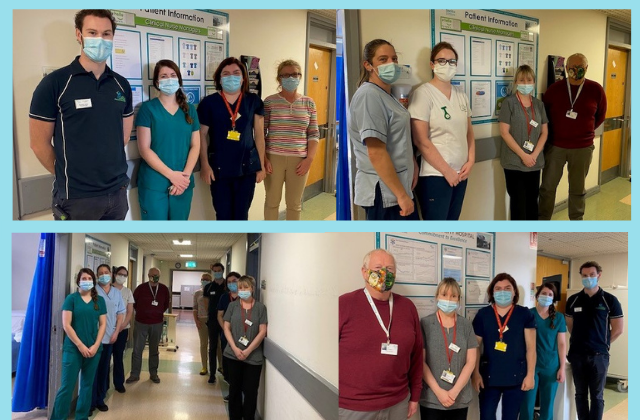 The Get Up, Get Dressed, Get Moving challenge is in place in a number of hospitals around the country, including Mayo University Hospital, from 04 October to 03 December 2021.
During a hospital stay older adults can spend 97% of their day lying or sitting down. Reduced activity can seriously impact the quality of life of the older person. During the 60 day challenge all members of the multi-disciplinary team will support the older person to increase their levels of functional activity.
John McCormack, Patient Experience Advisor with Mayo University Hospital strongly encourages all patients to be physically active whilst in hospital. John had a prolonged hospital stay, spending over 6 months in the hospital, and he praises the staff who supported and encouraged his physical recovery during that time.  John said "working with motivated staff and having personal self-determination helped an earlier discharge."
The Mayo University Hospital B Ward team, which includes Physiotherapists and Occupational Therapists, including Physio and OT are taking part in the national challenge and will be making a concerted effort to have their patients up, dressed and moving as early as possible within the day to improve outcomes.
A review of the impact of the initiative will take place at the end of the 60 day period, with the team assessing whether there was an improvement in reducing the length of patient stay, reduction in patients developing of pressure ulcers and decrease in the number of patient falls.
Photos
Brendan Butler, Physiotherapist; Laura Walsh, Occupational Therapist; Mary Conlon, Clinical Nurse Manager 2; Lucy McNamara Clinical Facilitator
John Mc Cormack, Patient Experience Advisor; Caitriona Davey, Clinical Nurse Manager 3; Mary Conlon, Clinical Nurse Manager 2; Laura Walsh, Occupational Therapist, Brendan Butler, Physiotherapist.
Anna Mc Ginty, Health Care Assistant; Niamh Hughes, Staff Nurse; Caitriona Davey, Clinical Nurse Manager 3; John Mc Cormack, Patient Experience Advisor
Laura Walsh Occupational Therapist; Anna Mc Ginty, Health Care Assistant; Niamh Hughes, Staff Nurse; John Mc Cormack,Patient Experience Advisor; Lucy McNamara, Clinical Facilitator; Brendan Butler, Physiotherapist; Mary Conlon, Clinical Nurse Manager 2; Caitriona Davey Clinical, Nurse Manager 3
The article above is specific to the following Saolta hospitals::
Mayo University Hospital (MUH)