You are here
GUH Interventional Radiology broadcast live procedures for LINC conference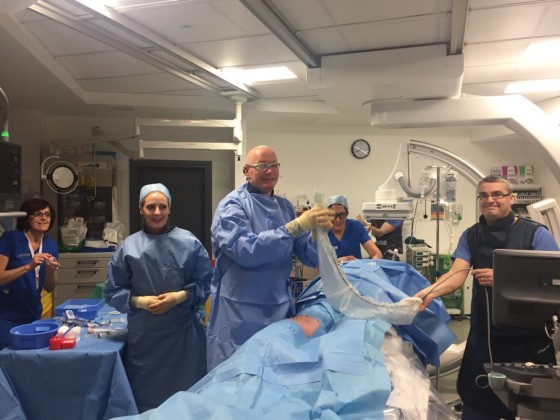 Galway University Hospitals (GUH), a leader in interventional radiology once again recently showcased the expertise of the Interventional Radiology Department when they hosted "live cases" for the LINC international interventional radiology conference which took place in Germany recently.  
Interventional Radiology is an independent medical specialty providing minimally invasive image-guided diagnosis and treatment of diseases in every organ system. More than 80 cases were performed from 13 international centres worldwide and transmitted real-time online to a wide medical audience who had the opportunity to ask questions as the operations occurred.
GUH continues to be the only hospital in Ireland or the UK to be involved in this project, which is one of the biggest meetings of its kind in the world. This is Galway's fourth year to take part in this Interventional course.  University Hospital Galway is one of the leading centres in Europe for acute deep venous thrombosis work and through this broadcast the hospital was able to share their expertise and experience with a large group of international colleagues.
Commenting, Dr Gerry O Sullivan, Consultant Interventional Radiologist at Galway University Hospitals said, "It is an honour and a privilege to showcase the skill, expertise and team work which the Interventional Radiology unit display daily to a wider worldwide audience. We perform more acute, single session deep vein thrombosis treatment than all but a handful of centres worldwide. Recently we performed three such interventions. The long awaited *ATTRACT trial will be published shortly and we believe this will confirm the value of the procedures we perform."
* The ATTRACT Study is sponsored by the National Heart Lung and Blood Institute (NHLBI), a part of the National Institutes of Health. Patients who have been diagnosed with a blood clot in the leg, also known as Deep Vein Thrombosis or DVT, and are a  perfect fit to participate in the ATTRACT study will have the best treatment determined for them by national physician experts in DVT treatment.
For further information on the ATTRACT study visit http://attract.wustl.edu/
Photo caption
Dr Gerry O'Sullivan, Consultant Interventional Radiologist, GUH pictured with theatre staff during a live case procedure for the LINC international interventional radiology conference.
The article above is specific to the following Saolta hospitals::
University Hospital Galway (UHG)