You are here
Health Officials urge the public to consider all care options this June Bank Holiday Weekend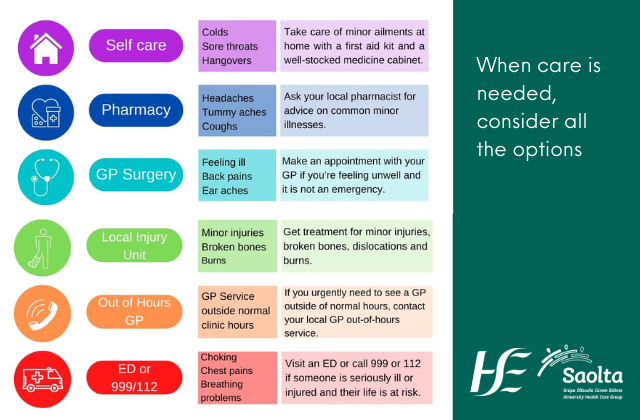 With the June Bank Holiday weekend approaching, Health Services in the West are asking people to consider all care options before presenting at Emergency Departments.
Bank holiday weekends and extended good weather usually bring additional pressure on the hospital system and the National Ambulance Service.
Serious incidents, accidents and injuries can't always be avoided, but if you require medical treatment over the Bank Holiday weekend, it's important to know that there are a range of local care options available to you that don't necessarily involve a trip to the Emergency Department, including your local Injury Unit, GP Out of Hours service or your local Pharmacist.
Health Services are advising the public that there will be large numbers attending Emergency Departments this weekend and they will be prioritising those in need of urgent and emergency care.
This means that patients who attend EDs for routine and non-urgent treatment will experience very long waiting times over the coming weekend. Every effort is being made to discharge patients who are ready to go home so that beds will become available for patients who need to be admitted, at the earliest opportunity.
Health staff across hospital and community settings will continue to work together over the weekend to ensure all available beds across the hospital and community are in use.
Patient safety is at the forefront of everything they do and staff prioritise to ensure critical need is met. Health Services in the West regret that any patient has experienced long wait times. As always, people who do require emergency care are encouraged to attend EDs where they will be prioritised.
You can help staff at this busy time by considering other options for non-emergency care such as Injury Units, Out of Hours GP and pharmacies before attending an ED.
Tony Canavan, CEO of the Saolta Group said: "As we approach the Bank Holiday weekend we want to assure all members of the public that we will be there for them for emergency care. To best protect those who need urgent care we are appealing to our communities to consider all care options before attending at ED. Using GP and pharmacy services in the first instance will help protect our emergency departments for those who need it most."  
Breda Crehan Roche, Chief Officer Community Healthcare West, added: "If you urgently need to see a GP out of hours, please contact Westdoc on 0818 360 000 from 6pm Friday 1st June to 9am on Tuesday 6th June.  Westdoc provides urgent out-of-hours GP care for patients of participating practices in Galway, Mayo and Roscommon. The GP out-of-hours service is for patients needing urgent medical care.  It is not a substitute for the Emergency Ambulance Service who are the appropriate service to deal with medical emergencies where they arise.
Urging people to remain #SunSmart this weekend, Dr. Áine McNamara, Area Director of Public Health Area F, offers the following advice.
"As we are experiencing warmer weather with hot and sunny conditions due, it is important for people to stay hydrated, keep cool and to check on those who may be particularly vulnerable – including babies and the elderly. One of the messages of the HSE's annual #SunSmart information campaign is that Sunscreen is an important sun protection measure, but should not be used as the only line of defence. It should be used alongside other skin protective measures such as clothing and shade. Up to date weather forecasts and warnings are available on www.met.ie"
"So, whether you are spending time outside in the garden, enjoying a barbecue or are attending outdoor events, remember sunscreen, cover up with hats and clothing, sunglasses and shade will protect your skin in the sun. See www.SunSmart.ie and check out #SunSmart on social media."
For information on when you should go to the ED visit https://www2.hse.ie/emergencies/the-emergency-department-ed/  or you can get advice on a number of illnesses that can be treated at home at https://www2.hse.ie/conditions/common-illnesses/
The HSE's mychild website also has lots of information regarding childhood illness and viruses
The article above is specific to the following Saolta hospitals::