You are here
Health Services in Mayo Advise on the Importance of Public Health Measures in Light of Dramatic Increase in Cases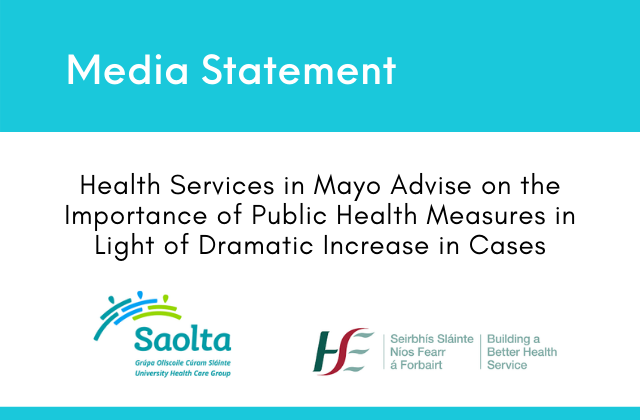 Health Services in County Mayo are advising on the importance of practising public health behaviours in light of the recent increase in COVID-19 cases in the West.
Dr Breda Smyth, Director of Public Health for HSE West said, "Over the past 5 days we have seen a dramatic increase in case numbers of COVID-19 across HSE West with numbers doubling in County Mayo and tripling in County Galway. Our age-specific 14 day incidence in our young adults ranges from 500 to 832 cases per 100,000. This population is largely unvaccinated.
"COVID-19 is circulating at pace in our population. To protect ourselves and our loved ones, it is important we continue to practice public health behaviours:
Wear a mask
Wash your hands
Avoid large gatherings
Stay outside and stay apart."
Tony Canavan, CEO of the Saolta Hospital Group said, "It is clear that we are now on the upward curve of the fourth wave of COVID-19 infection in this country. We don't yet know how many people will get seriously ill and will require hospital care or treatment in an Intensive Care Unit. A small percentage of all people with COVID-19 will require hospital care but as the number of cases in the community increases, this small percentage translates into a larger number of patients needing hospitalisation. Even before we see the impact of the fourth wave on our hospitals, we have record numbers of people attending the Emergency Departments, many of whom need to be admitted to hospital for ongoing treatment. We are seeing a level of activity normally not seen until December and January.
"The increase in COVID-19 cases in the community is a great concern and I would like to appeal to the public to stay vigilant and help halt the spread of the virus in the community by following public health advice in relation to wearing masks and keeping social distance. I would also urge anyone aged 25 to 69 who hasn't yet registered to get a free COVID-19 vaccine at the Breaffy Resort Vaccination Centre, to do so by going to hse.ie. The vaccine is the most effective way to prevent serious disease and will help protect you and those close to you."
Breda Crehan Roche, Chief Officer, Community Healthcare West said, "We are seeing large numbers attending for COVID-19 testing at our test site at McHale Park, Castlebar. The Delta variant is highly infectious and is circulating in our communities. Now more than ever, with restrictions easing we need to be extremely vigilant and not to let our guard down in terms of Public Health measures; it is vital that we do so to protect our loved ones and vulnerable people including those not yet vaccinated. The vaccination programme is making great progress, we would urge anyone aged over 25 years of age who has not yet registered for their free COVID-19 vaccine to do so."
The article above is specific to the following Saolta hospitals::
Mayo University Hospital (MUH)