You are here
Letterkenny University Hospital is extremely busy today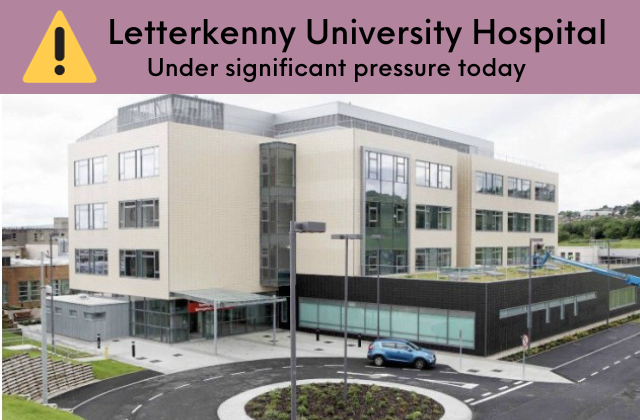 The Emergency Department (ED) at Letterkenny University Hospital (LUH) has been extremely busy over the past few days and the hospital is advising that patients who attend ED for routine and non-urgent treatment will experience very long waiting times. 181 people attended the ED yesterday, Monday 18 September, resulting in 34 patient admissions.
These high attendances are continuing. Many of the attendances are patients who are very sick, frail and elderly and need to be admitted to the hospital for treatment. There is ongoing pressure on bed availability in the hospital and we regret that many patients are currently experiencing long waiting times to be admitted from the ED to an acute bed in the hospital. There are currently 16 patients on trolleys awaiting admission to in-patient beds.
We are committed to treating everyone who presents at our ED but we do so strictly in order of medical priority. The hospital acknowledges that these delays are very difficult for patients and their families and apologises for the inconvenience and distress these delays cause.
We continue to request that people consider other options for non-emergency care such as Out of Hours GP and pharmacies before attending an ED.
Keeping up to date with your vaccines is the most important thing you can do to avoid serious COVID-19 illness. Find out more here.
The article above is specific to the following Saolta hospitals::
Letterkenny University Hospital (LUH)