You are here
Mayo University Hospital Hand Hygiene Awareness Day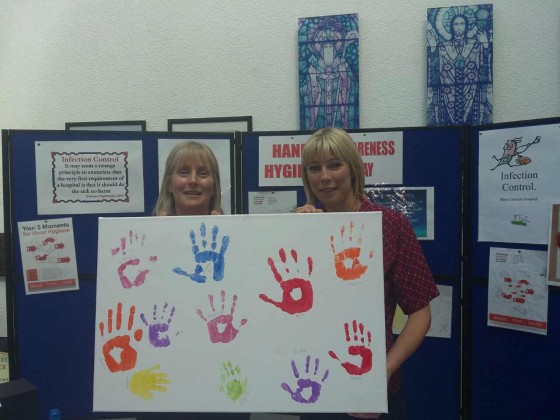 Mayo University Hospital is a member of the WHO Save Lives: Clean Your Hands Initiative Hospitals and as part of that we hold a Hand Hygiene Awareness Day during May of each year to show commitment to improve Patient Safety by practicing better hand hygiene.  
This year the campaign theme is 'Fight Antibiotic Resistance - it's in your Hands'.
The objectives of hosting such an event are:
To progress the goal of maintaining a Hospital Wide profile on the importance of hand hygiene in healthcare.
To 'bring people together' in support of Hand Hygiene improvement in Mayo University Hospital.
To promote hand hygiene as an important factor in the prevention of transmission of infection - as an easy, effective, and affordable way to prevent diseases and save lives.
To improve healthcare provider adherence to hand hygiene.
To improve the quality of patient care by increasing hand hygiene awareness among Healthcare Personnel, Patients & Visitors.
To address the myths and misperceptions about hand hygiene.
To empower patients to play a role in their care by asking or reminding healthcare providers to clean their hands.
Increased hand hygiene compliance will lead to a decrease in Healthcare Associated Infections.
To outline the most appropriate agents/technique for hand-hygiene in Mayo University Hospital.
The Hand Hygiene Awareness Day was organised to involve all healthcare staff, Patients and Visitors.  The children in the Paediatric Ward were actively involved under the direction of the Volunteer's and produced a wall display of Hand Prints which we will get laminated for display going forward in the Paediatric Ward.
Visitors, Staff & Patients were offered an Infection Control Survey to complete.  20 in total were completed throughout the Day, the results of which will be available shortly.
Information and display stands were erected in the Main Foyer displaying information through leaflets posters and verbal education. 
This year we also used Adenosine triphosphate (ATP) Technology swabs of staff hands. ATP is the primary energy transfer molecule present in all living biological cells; it cannot be produced or maintained by anything but a living organism and as such is a direct indication of biological activity.  This initiative was beneficial in raising awareness of correct Hand Hygiene Technique and demonstrated that Hands that were not decontaminated correctly can be biologically contaminated which can result in an increase in microbial growth.
Staff  were interested in this concept – it showed them clearly the 'Before Hand Hygiene & After Hand Hygiene Count' which was an effective learning tool for staff.
The feedback on the day was very positive, participants eager to improve their practices, to become familiar with products available and what should be used for Hand Hygiene.
125 - 150 staff approx participated on the day from all departments within the hospital.
The article above is specific to the following Saolta hospitals::
Mayo University Hospital (MUH)