You are here
Mayo University Hospital wins Gold Happy Heart Award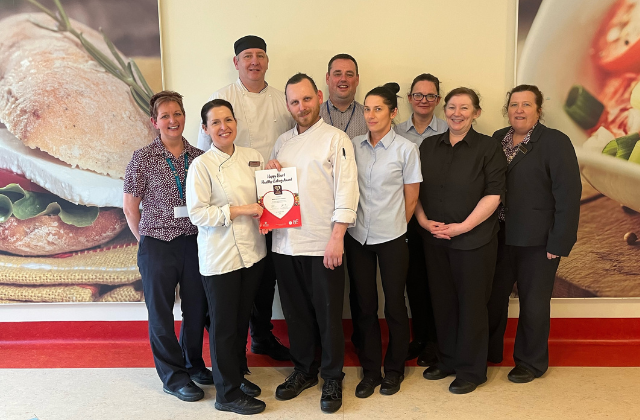 The Irish Heart Foundation has awarded the Gold Happy Heart Award to the catering team Mayo University Hospital in recognition of the ongoing work at the hospital to promote healthy eating in the workplace.
The Awards were launched by the Irish Heart Foundation almost 30 years ago to encourage healthcare catering facilities to adopt healthier cooking practices and provide strategies to promote healthy choice.
James O Shaughnessy, General Manager of Aramark Food Services in Mayo University Hospital said, "I am delighted that our catering team in MUH was recognised with this award. We have worked very hard to provide and promote a balance of healthy food choices in the restaurant every day. This is in line with the HSE "Healthy Eating, Active Living Programme" where the main aim is to make the healthier choice, the easier choice.
"It starts with healthy menus and healthy food preparation practices which enable us to offer a variety of nutritious, freshly prepared food options to our customers. We focus on meals which are high in fibre, with low salt, sugar and fat content."
Catherine Donohoe, Hospital Manager at Mayo University Hospital, said "This award recognises the hard work of the catering team in promoting healthy lifestyles including a healthy diet for patients and staff. The catering team deliver a consistently strong patient dining experience, from food preparation to food service - something which is reflected in the positive feedback we regularly receive from patients."
Ms Donohoe concluded by congratulating all staff involved for their ongoing commitment and dedication which culminated in receiving this award.
Photo: The catering team in Mayo University Hospital awarded Gold Happy Heart Award at a recent awards ceremony hosted by the Irish Heart Foundation
The article above is specific to the following Saolta hospitals::
Mayo University Hospital (MUH)