You are here
Minister for Health opens New Endoscopy Unit at Roscommon University Hospital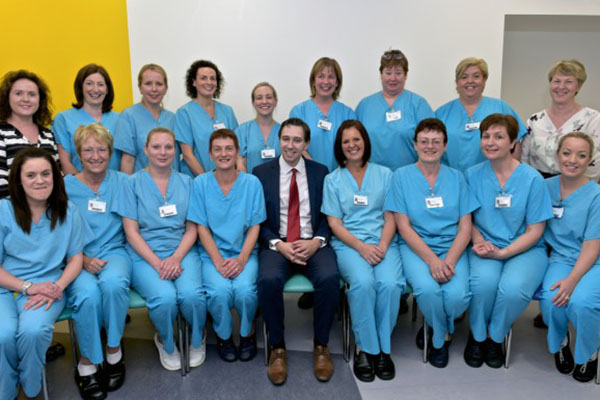 The new Endoscopy Unit at Roscommon University Hospital (RUH) was officially opened on Wednesday, 07 September by Mr Simon Harris TD, Minister for Health.  The new unit which opened its doors on 01 June, 2016 is a modern, patient-centred facility with two procedure rooms, a first stage and second stage recovery room and a reception area. Built at a cost of €5.5m, the purpose built unit will increase the capacity of the hospital from currently providing 15 procedures per day to 30 procedures per day or 6,000 procedure per year when fully operational. There are currently 19 staff working in the unit, which will serve a large catchment area covering most of the west of Ireland.
The development of the new Endoscopy Unit is a key element to the progression of Roscommon University Hospital. The unit is accredited by the Joint Advisory Group on Gastrointestinal Endoscopy (JAG) and is an approved centre for Bowel Screening under the governance of the National Screening Service – Bowel Screening Programme. The new unit will have enhanced capacity for both symptomatic and screening patients and this will impact significantly on the early diagnosis and treatment of colorectal cancer. 
Elaine Prendergast, General Manager, said, 'My colleagues and I very much welcome the development of the new endoscopy facilities in Roscommon University Hospital. The new unit is a purpose-built facility and meets all the international standards required for such a unit (JAG).  This is a formal recognition that the unit has demonstrated its competence to deliver the standard of care required by international standards.  
Consultant Surgeon Dr Liam McMullen said, "I am delighted with the development of the new endoscopy unit.  This will allow Roscommon University Hospital to deliver the latest high quality endoscopy procedures in a modern structured patient centred building.  It will improve the delivery of care to patients and allow us to work towards delivering colorectal cancer screening services at a local and wider level.    
Further information
An Endoscopy is the direct visual examination of any part of the interior of the body through an optical viewing instrument.  Patients are referred for a planned day care endoscopic procedure following a GP/Consultant referral to investigate symptoms such as, stomach pain, ulcers, gastritis, or difficulty swallowing, digestive tract bleeding, changes in bowel habits (chronic constipation or diarrhoea), polyps or growths in the colon. The unit will provide day care services  for the following procedures:
Upper GI Endoscopies (examination of upper gastrointestinal tract)
Colonoscopies (examination of inner lining of large intestine)
Sigmoidoscopies (examination of sigmoid colon)
The article above is specific to the following Saolta hospitals::
Roscommon University Hospital (RUH)