You are here
New Patient Experience Enhancement Initiatives launched at RUH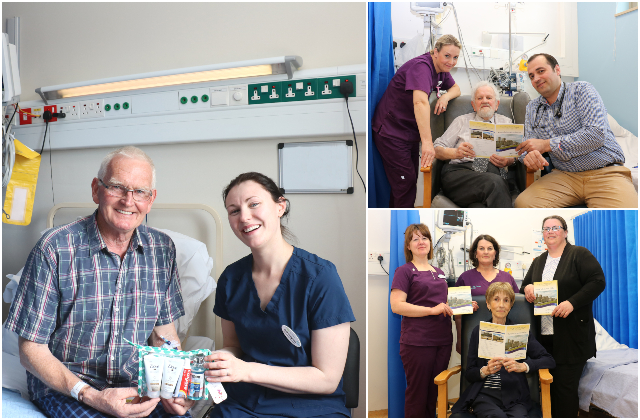 In response to feedback from last year's National Patient Experience Survey, Roscommon University Hospital has introduced a number of new initiatives to enhance the patients' experience at the hospital. These include a new Patient Information Booklet and Folder and Patient Comfort Packs.
Patient Information Booklet and Folder
The new 27-page booklet provides patients with information relevant to their hospital stay as well as helpful contacts and useful information for when they leave hospital. The booklet was compiled in collaboration with the Roscommon University Hospital Patient Council with input from patients and staff. The booklet is available on all wards and departments in the hospital.
In last year's National Patient Experience Survey, the majority of participants in the hospital reported positive experiences; 91% of participants said they had 'good' or 'very good' overall experiences, compared with 84% nationally. One of the areas highlighted for improvement was the provision of information to patients on possible symptoms post-treatment.
"As part of our patient experience improvement plan, we developed the information booklet and folder with the aim of providing patients with some reassurance around what to expect while they are in hospital and what arrangements they can make to ensure their safety and comfort when they leave hospital. We are committed to providing the best care we possibly can and to ensure respect, dignity and sensitivity at all times to our patients," said Ursula Morgan, Director of Nursing, Roscommon University Hospital.
The booklet includes general information on RUH, details on services and supports, information on admission to hospital, what to bring, your care in hospital, hospital activity, nutrition and hydration, hospital facilities, infection control, hospital charges, planning your discharge and how patients can follow up and provide feedback after they are discharged.
In the booklet, patients will find important checklists and questions to ask healthcare professionals about their medications and the discharge process.
Along with the booklet, patients will also receive an information folder. The folder can hold all documentation provided by the hospital, including leaflets, appointment letters, prescriptions and all the necessary post-treatment information relevant to the patient.
Patient Comfort Packs
Another initiative to enhance the patient's experience at the hospital is the introduction of Patient Comfort Packs.  The packs are for patients who may need essential toiletry supplies during their hospital stay and include items such as a toothbrush, toothpaste, shampoo, conditioner and comb. Comfort packs are also available in the family room for relatives.
Speaking of the importance of the comfort packs, Ursula Morgan said, "This is a small gesture for those who may be going through a distressing time and need to stay at the hospital unexpectedly. Small acts of kindness create a lasting memory for people going through a difficult time and at Roscommon University Hospital we would like our patients and families to leave our hospital feeling supported and cared for."
The article above is specific to the following Saolta hospitals::
Roscommon University Hospital (RUH)