You are here
Portiuncula's Study of Sporting Injuries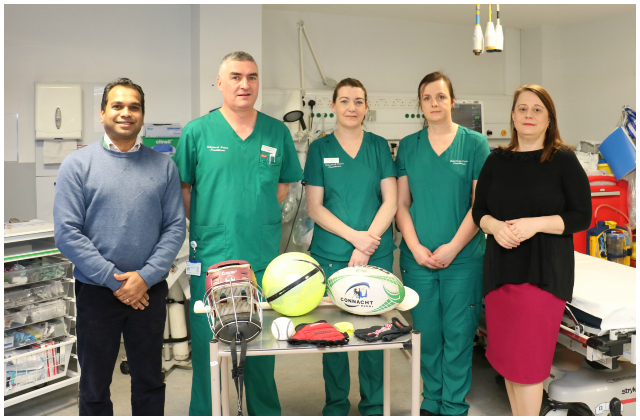 The Advanced Nurse Practitioners  working in the Emergency Department at Portiuncula University Hospital carried out an audit of all sports related injuries they treated at the hospital from January to March 2018. The aim was to identify the prevalence of minor sports injuries with a view to identifying further opportunity for health promotion and education.
Ciara Mooney, Advanced Nurse Practitioner and lead author of the study on sports injuries said of the findings, "The most prevalent sport for injuries was hurling and camogie with 38% of all presentations followed by soccer with 32%, rugby with 15%, Gaelic football with 10% and horse-riding with 5%.
"In line with other studies, hurling and camogie accounted for a significant per cent of finger or hand related injuries - 50% were finger or thumb injuries and a further 23% were hand injuries. The largest proportion of soccer injuries were ankle (37%) and knee (16%) injuries. Rugby presentations were an equal number of lower limb and head injuries.
"In total 617 patients were seen and treated by our ANP service during the timeframe of the research and of those, 60 patients had a sports-related injury. The initial study looked at the age, gender and sport."
The findings of the study were presented at the recent Research Day at Portiuncula University Hospital which was organised to showcase the research and audit work undertaken at the hospital and at the European Society for Emergency Medicine (EUSEM) annual congress in Glasgow.
Photo Details:
Emergency Department staff at Portiuncula University Hospital involved in the study of sporting injuries, from left: Dr Kiren Govender, Consultant in Emergency Medicine; Advanced Nurse Practitioners Aidan Fallon, Enda Jennings and Ciara Mooney; Dr Laura Bandut, Consultant in Emergency Medicine.
The article above is specific to the following Saolta hospitals::
Portiuncula University Hospital (PUH)