You are here
Portiuncula University Hospital and the Saolta Staff Recognition Awards 2019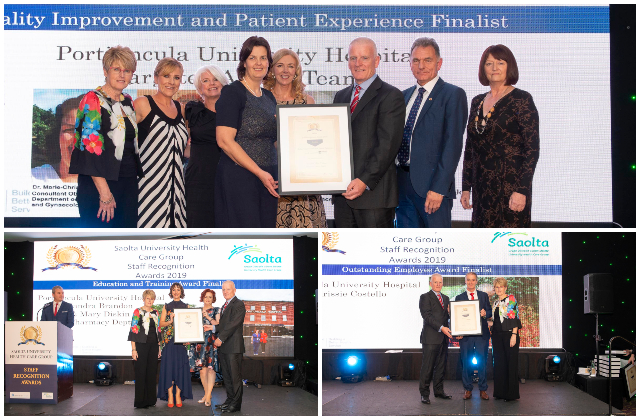 Portiuncula University Hospital (PUH) won a Saolta Staff Recognition Award for 'Outstanding Employee' and was shortlisted in a further two categories at a recent awards ceremony.
More than 160 nominations from across the Saolta Group of hospitals were received for the six award categories which included: Innovation in a Clinical Area Award; Innovation in a Non Clinical Area Award; Research Award; Education and Training Award; Quality Improvement and Patient Experience Award, in addition to the Outstanding Employee Award won by PUH.
The event was hosted by Mayo Senior Football Manager James Horan and the awards were presented by Saolta CEO Tony Canavan and Chief Director of Nursing and Midwifery, Jean Kelly.
James Keane, General Manager, Portiuncula University Hospital said, "I am delighted that Christie Costello, who has been working with the Maintenance Team Grounds Staff for more than 22 years, was presented with the award for 'Outstanding Employee'. Christie is the person making sure that things get done in the background, with no fuss and no request for his help is ever refused. He makes sure that the front of the hospital is maintained to a very high standard and we are very proud of him and the work that he does."
PUH projects were also shortlisted for the following awards:
Quality Improvement and Patient Experience Award - Targeted Anti D Team.
Routine antenatal Anti-D prophylaxis (RAADP) is recommended as a treatment option for all pregnant women who are Rhesus D (RhD) negative. PUH has introduced a targeted approach to RAADP which involves non-invasive prenatal testing using cell free foetal DNA from maternal plasma to determine the RhD status of the foetus. As a result 40% of RhD-negative women do not require Anti-D.
Education and Training - Sandra Brandon and Mary Diskin for a staff learning event on dysphagia in the stroke population.
Stroke swallow screening was introduced to the hospital to improve the safety and quality of care provided to patients post stroke. The team developed a new training programme on swallow screening for senior nurses within the Stroke Unit consisting of a 4 hour theoretical session and follow up practical experience in which competencies were evaluated using an internationally validated tool. This has resulted in timely screening of swallow function, reduced fasting times and early identification of dysphagia. The knowledge and skill gained by staff has enhanced the quality, safety and psychosocial experience of the patient with dysphagia post stroke at the hospital.
The Saolta University Health Care Group Staff Recognition Awards take place every 2 years and aim to recognise the important role that staff play in delivering services to patients cared for in all six hospitals in the Group. All applications are judged by an independent panel and the event is self-funded through sponsorship.
The article above is specific to the following Saolta hospitals::
Portiuncula University Hospital (PUH)