You are here
Reminder that Roscommon Injury Unit is there for you this summer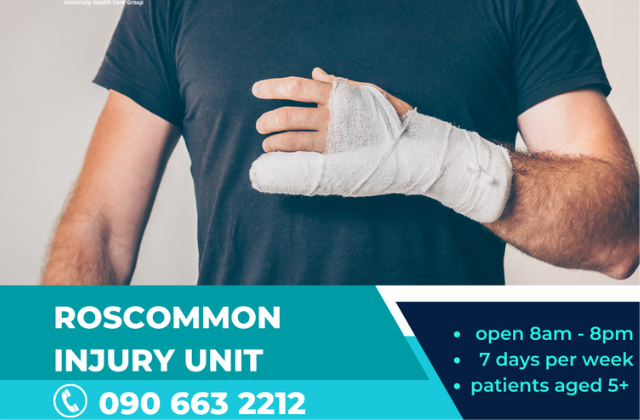 Many of us get back to playing our favourite sports again in the summer months. However, with more people spending time doing outdoor activities and playing sports, there are inevitably more injuries.
Elisa Bridgeman, Clinical Nurse Manager at Roscommon Injury Unit explains, "During the summer months, we see an increase in people coming to the Injury Unit with broken bones, sprains and other injuries that occurred while playing sports. The Injury Unit provides an excellent service to our patients with our clinical team of highly experienced doctors, advanced nurse practitioners and nurses.
"Patients attending Roscommon Injury Unit are typically seen and discharged quicker than if they attended the Emergency Department (ED), where patients with more serious illnesses take priority.
"Over the summer months last year, over 3,674 patients attended Roscommon Injury Unit. Typically, we see a lot of injuries to ankles, wrists and fingers, often caused by playing various sports," added Elisa.
Summer spoilers
The most common injuries treated at HSE Injury Units over the summer months are:
1.     Broken bones in legs or arms
2.     Joint sprains and dislocations. Joint sprains happen when a ligament is stretched too far or tears, causing the joint to become painful and swell. A dislocation is a separation of two bones where they meet at a joint.
3.     Lacerations (cuts) and wounds                                                                                                                   
4.     Minor burns that cause the skin to go red and, in some cases, blister. 
HSE Injury Units treat injuries that are not life-threatening, such as broken bones, dislocations and burns. HSE Injury Units can also look after wrist and ankle injuries that may occur when playing sports, and remove foreign bodies from the eye, ear and nose. Staff take X-rays, apply plaster casts and treat wounds by stitches or other means. They provide swift access to tests, can refer patients to specialist care and arrange follow-up appointments where necessary.
Elisa said, "We are seeing some patients from outside our catchment area in areas bordering Roscommon, such as Sligo, Mayo, Longford, Galway, as well as holiday-makers who are in the area.  Along with the high standards and efficiency of the service, we also have free parking. If you have an injury that is not life-threatening and needs treatment, we recommend you visit Roscommon Injury Unit.  
"However, for patients with urgent and life threatening injuries, they should still go to the Emergency Department. Injury Units are not able to treat serious head, back, chest or neck injuries, abdominal (stomach) pain, medical illnesses or mental health problems. Roscommon Injury Unit does not treat children under the age of five."
You do not need an appointment to attend Roscommon Injury Unit and the cost to attend the Injury Unit is €75. There is no charge for patients with full medical cards or with a valid medical/GP referral letter.
Roscommon Injury Unit is open at 8am to 8pm, 7 days a week.
If you are not sure if you should attend the Injury Unit, please phone 090 663 2120 or 090 663 2212.
Visit www.hse.ie/injuryunits for further information.
The article above is specific to the following Saolta hospitals::