You are here
Roscommon Injury Unit appoints New Registered Advanced Nurse Practitioner in Emergency Nursing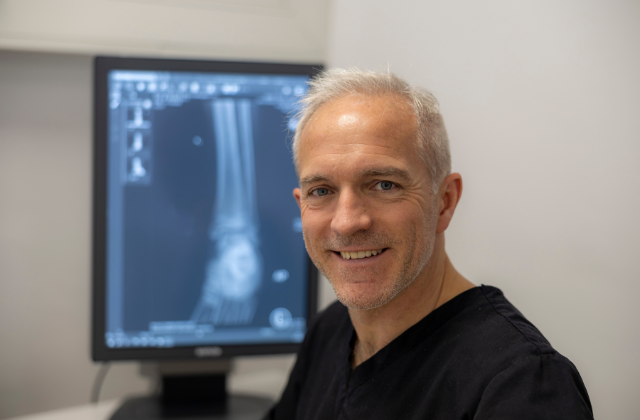 Roscommon University Hospital is delighted to announce that Eoin McGinn has recently been appointed as Registered Advanced Nurse Practitioner (RANP) in Emergency Nursing at Roscommon Injury Unit. 
RANPs are the highest level of clinical experts in the nursing profession in Ireland today and are transforming services for patients through an expanded scope of practice, greater clinical autonomy and decision-making.
Eóin, a native of Tuam in County Galway, began his nursing career at Cork University Hospital before moving to London to work as an Emergency Nurse at the King George Hospital.  After two years in London, Eóin returned to Ireland to continue his career as an Emergency Nurse in the Emergency Department at University Hospital Galway (UHG).
In 2003 Eóin took a career break to visit Australia and follow the Rugby World Cup.  While there, he got the opportunity to work at The Royal Melbourne Hospital and Princess Margaret Paediatric Hospital in Perth, where he expanded his vast expertise and knowledge in emergency nursing.
After completing a Postgraduate Diploma in Emergency Nursing at the University of Galway in 2009, Eóin took up the role of Clinical Nurse Facilitator in the Emergency Department at UHG until being appointed to Assistant Director of Nursing in 2018.  During that time, he also taught Basic Life Support (BLS) and Advanced Cardiac Life Support (ACLS) skills as well as Trauma Nursing Core Course (TNCC) to Emergency Department Nurses across Ireland and the UK.  
In September 2021, following an extensive career at UHG, Eóin took up the role of candidate Advanced Nurse Practitioner at Roscommon Injury Unit.  He recently graduated with an Honours Masters Degree in Advanced Nursing Practice which permitted him to enter the nursing register as an Advanced Nurse Practitioner. 
Advanced Nurse Practitioners working in Injury Units are qualified to diagnose and effectively treat a wide range of injuries for both adults and children over five years of age, essentially non-life or non-limb threatening injuries and non-complex minor soft-tissue injuries, such as sprains, strains, suspected broken bones in the arm or leg, minor scalds, burns or cuts, lacerations and removal of objects from the nose, eyes and ears.
"I always had a keen interest in dealing with emergencies and working in an emergency setting, which inspired me to train as an Advanced Nurse Practitioner (ANP)," Eóin remarked.  "I received excellent experience and abilities as an emergency nurse, and this experience supported my carrier choices.  As an ANP I can continue to develop clinically as an independent practitioner for the benefit of my patients.
"Ultimately, the patient will benefit from a more holistic approach.  I am responsible for their care from the moment they arrive until they are discharged or referred. I assess their injury, order x-rays or other interventions, prescribe pain relief, antibiotics and tetanus, suture wounds, and refer them to other specialist services if necessary, such as Orthopaedics, Plastics, Ophthalmology, ENT, Physiotherapy, Occupational Therapy, and Frailty Team," Eóin added.
The creation of ANP posts across the Saolta Group is transforming services for patients not only in hospitals, but in the community and in the home through an expanded scope of practice for highly skilled nursing professionals, greater clinical independence and decision-making. Ongoing education and research as well as mentoring of nursing colleagues are also key parts of the role.
Claire Conlon, Interim Hospital Manager said, "I am delighted to welcome Eóin to his role in the Injury Unit. Advanced Nurse Practitioners are transforming services for patients. With seriously ill patients prioritised for treatment in our Emergency Departments, injury units are a vital resource for maximising efficient patient flow and minimising wait times for patients.
"Roscommon Injury Unit is constantly growing to accommodate the rising need for patient care. Eoin is the fifth Advanced Nurse Practitioner to be assigned to the injury unit, and he is a welcome addition to an already-expanding service. In 2022 the unit treated 12,733 patients, an increase of 36% on 2021. From January to September of this year, the unit has already treated over 13, 000 patients, an increase of 28% from the same period last year.
"In addition, we have three candidate Advanced Nurse Practitioners who are currently undertaking Postgraduate Programmes in Advanced Nursing Practice and once registered will join our existing Injury Unit team, added Claire.
The article above is specific to the following Saolta hospitals::
Roscommon University Hospital (RUH)