You are here
Roscommon Injury Unit is here for you this Winter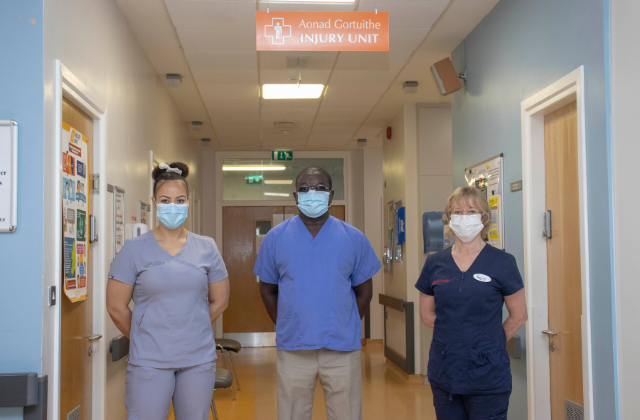 As winter takes hold Roscommon University Hospital is reminding people that their Injury Unit is open from 8am to 8pm, every day of the year to treat a wide range of injuries which are non-life or non-limb threatening, as an alternative to visiting an emergency department. The Injury Unit is staffed by Doctors, Advanced Nurse Practitioners and Nurses.
Maggie Mew, Advanced Nurse Practitioner, Roscommon Injury Unit said, "Every year and particularly during the winter months emergency departments see vast numbers of patients who could be treated more appropriately somewhere else and a busy emergency department is not the right place for you if you have a minor injury.
"Here at Roscommon Injury Unit we are able to see, diagnose and treat a wide range of injuries for both adults and children over the age of five. You do not need to make an appointment, we have a walk-in service and the team is experienced in treating people quickly and efficiently.
"We treat injuries from shoulder to finger and from knee to toe including non-life or non-limb threatening injuries like broken bones, fractures, scalds, minor burns, traumatic wounds, sports injuries such as hand and ankle injuries, removal of foreign bodies from the eye, ear and nose. The injury unit provides quick access to tests and x-rays and should you require a referral to specialist care, we will arrange all that for you.
"This winter if you need treatment for a minor injury, come to Roscommon Injury Unit and by doing so, you will get the care and treatment you need, you will avoid long wait times and more importantly by coming to us for your care, you are allowing emergency department staff to concentrate on patients who have serious and life-threatening conditions.
"Last year more than 6,700 people attended the Roscommon Injury Unit and this year we have had 7,800 people attending to date. You don't have to be from Roscommon to attend our injury unit.  We see patients from Mayo, Sligo, Leitrim, Offaly, Galway and Westmeath.
"If you are looking for advice on your injury and want to know if you should attend the Roscommon Injury Unit, please do call us on 090 663 2212".
Photo details:
Roscommon Injury Unit treats a wide range of injuries for both adults and children over the age of five that are non-life or non-limb threatening injuries. Some of the staff working in Roscommon Injury Unit include, from left: Dona Cromar, Candidate Advanced Nurse Practitioner; Dr Mohammad BelloMusa and Maggie Mew, Registered Advanced Nurse Practitioner.
The article above is specific to the following Saolta hospitals::
Roscommon University Hospital (RUH)