You are here
Roscommon University Hospital's Endoscopy Department achieves JAG Accreditation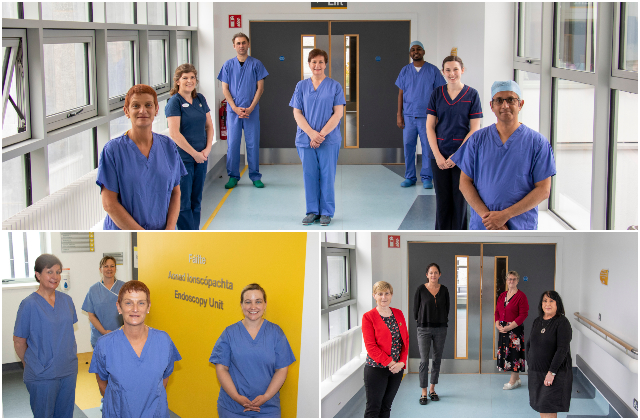 Last week, following completion of an in-depth accreditation checklist and site assessment earlier this year, the Endoscopy Department at Roscommon University Hospital was successfully awarded accreditation through the UK-based accreditation programme for Gastrointestinal Endoscopy known as the Joint Advisory Group or JAG. The JAG accreditation is regarded as one of the most innovative in the healthcare sector and focuses on a model of care which is patient-centred and work force based. Roscommon University Hospital has maintained ongoing JAG accreditation since 2012.   
Speaking of the accreditation, Mr. Mohamed Eldin, Clinical Lead for Endoscopy Services at the hospital said, "The feedback from the accreditation team was very positive. Specifically we were told that our facility offers patients an exceptional experience due to the well-considered design and the way we put our patients at the centre of each stage of the pathway. In addition the accreditation team commented on the excellent patient feedback and the high regard our patients have for our service.
"We were delighted that our 'can do' culture and ethos was noted. We are extremely proud of the important service we provide to people from all parts of the West. An award of JAG accreditation means we are able to demonstrate that we are delivering a quality assured, standardised and safe Endoscopy service to our patients from a competent, dedicated and caring team."
Mary Garvey, General Manager, Roscommon University Hospital added, "The accreditation report highlighted multiple areas of excellence including the comprehensive pre-assessment service, efficient waiting list management, and an inclusive approach to service development. In addition, the feedback acknowledged that there is an excellent culture of safety and learning in the service and the strong and effective clinical leadership shown is underpinned by the emphasis the team places on quality and governance. This is a credit to the staff and the multi-disciplinary Endoscopy User Group which demonstrate ongoing commitment to delivering an excellent patient-focused service. I thank and congratulate all of the staff who work in and support the Endoscopy Unit in our hospital on the this fantastic achievement."
JAG provides an accreditation mark for services to demonstrate their achievement and as a mark of quality. Accreditation is awarded each year for 4 years, on successful completion of an annual review, and in the fifth year a full reaccreditation assessment is undertaken.
The article above is specific to the following Saolta hospitals::
Roscommon University Hospital (RUH)