You are here
Roscommon University Hospital first in the country to deliver Frailty Education Programme to Hospital Doctors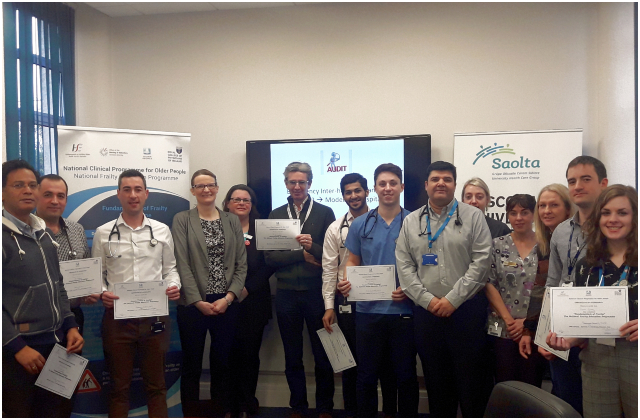 Frailty is a common real life condition with up to 30% of people >75 years being affected. To meet the complex needs of older people requires our healthcare systems to adapt and recognise frailty as a real life condition. This is particularly relevant for Roscommon University Hospital (RUH) which serves the West/Northwest and which has shown to have the largest population of residing older adults in Ireland (DOH, 2016).
The HSE National Frailty Education Programme was developed to provide all members of a multidisciplinary team with an understanding of frailty and frailty assessments, thereby allowing early recognition of frailty, improved healthcare management and a better outcome for older adults when accessing a health service.
Three staff members in RUH trained as National Frailty Facilitators and committed to the roll out of the programme throughout 2018 to promote a culture change in organising and delivering the programme to the staff. The team launched a frailty awareness campaign, compiled a frailty leaflet for staff and were instrumental in piloting a frailty assessment tool into the Medical Assessment unit.
Generally the National Frailty Education Programme is delivered as a one day course and this resulted in the hospital doctors being unable to attend due to time constraints. RUH frailty facilitators proposed a modular approach to the delivery of the frailty programme to all hospital doctors over a 3 month time frame (1 hour sessions). 13 doctors undertook the programme each third Friday where the frailty facilitators delivered one module at a time for seven sessions until all modules were completed. Positive feedback from the doctors identified that the areas covered in the programme were very relevant to clinical practice.
All doctors in RUH completed the programme between September and November 2018 and were the first group of doctors within Saolta and nationally to have completed the National Frailty Education Programme.
Ursula Morgan, Director of Nursing, Roscommon Univeristy Hospital said, "By increasing the understanding of frailty, we can improve the detection, prevention, management and therefore outcomes for these older adults.  The success of this initiative has led to the frailty programme being rolled out on an on-going basis in RUH to capture rotation of medical teams. The recognition of frailty is important and should form part of any interaction between an older person and a healthcare professional. The importance of this programme in RUH is that patient care for older persons is enhanced and that our multidisciplinary team (doctors, nurses, physiotherapists, occupational therapists, household staff) would have the necessary knowledge and skills to provide the highest standard of care possible."
Photo Caption
Some of the awardees from Roscommon University Hospital with their National Frailty Programme certificates pictured with Mary Garvey, General Manager, Ursula Morgan, Director of Nursing and course facilitators, Nicola Crean, Sharon O'Rourke and Carlyn Blackweir.
From left: Dr Sri Gowda, Registrar; Dr Tariq Khan, Registrar; Dr William Murray, Registrar;  Ms Mary Garvey, General Manager; Ms Ursula Morgan, Director of Nursing; Dr Gerry O'Mara, Consultant Physician; Dr Shazil Jamal, Intern; Dr Colin Murphy, Intern; Dr Ifran Khan, Registrar; Ms Nicola Crean, Candidate Advanced Nurse Practitioner and course facilitator; Ms Sharon O'Rourke, Staff Nurse and course facilitator; Ms Carlyn Blackweir, Clinical Nurse Specialist and course facilitator; Dr Ciaran McHale, SHO and Dr Claire Glody, Intern.
The article above is specific to the following Saolta hospitals::
Roscommon University Hospital (RUH)